By Harmeet Shah Singh
CNN





NEW DELHI, India (CNN) -- The number of dead in devastating floods triggered by torrential rains in India has risen to at least 271, and about a million people have fled their homes, officials said Monday.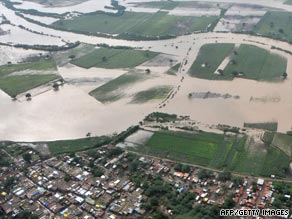 An aerial view of a flood-affected area in Bijapur district in North Karnataka, India.
At least 192 people have died in the southern state of Karnataka, its disaster-management secretary H.V. Parshwanath told CNN.
More than 450,000 people there have been housed in 1,330 relief camps as authorities completed rescue operations in most of the flooded zones in the state, he said.
"The focus is now mainly on relief," Parshwanath said, adding that rains have now eased in Karnataka.
In neighboring Andhra Pradesh, authorities put the death toll at 51. Some 531,000 people have been evacuated to safety, with more half of them now sheltering in relief camps, said Dinesh Kumar, the commissioner of the state's disaster-monitoring department.
India has deployed the military to help with relief and rescue in Karnataka and Andhra Pradesh.
More than a dozen teams of naval divers have been sent to the two flood-hit states, the country's defense ministry said.
Air force planes and helicopters have also been dropping food packets in the submerged regions.
The military has been able to rescue 1,336 people so far, it added.
Flood waters were now receding in two of the five worst hit districts of Andhra Pradesh, disaster official Kumar said.
But floodwaters from a local river might submerge the remaining three, he warned.
Flooding also killed at least 25 people in Maharashtra state, officials said. Three others died because of lightning strikes, said S.C. Mohanty, director of Maharashtra's disaster-management department.
About 3,000 people have been displaced because of flooding, he told CNN. Thousands of people die each year in India during seasonal monsoon rains.
More than 1,100 had been killed in monsoon-triggered flooding in different parts of the country as of last month, according to the disaster-management division of the federal home ministry.
E-mail to a friend

All About India