Clinton condemns Peshawar market blast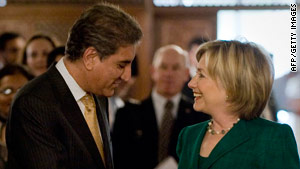 U.S. Secretary of State Hillary Clinton greets Pakistani Foreign Minister Shah Mahmood Qureshi in Pakistan
STORY HIGHLIGHTS
Clinton condemns bombing of Peshawar market which killed at least 90 people Wednesday
Of militants who carried out the attacks, she said: "They are on the losing side of history"
The U.S. Secretary of State is in Pakistan to shore up strained relations
Clinton said relationship is about more than security and anti-terror campaign
Islamabad, Pakistan (CNN) -- The militants behind Wednesday's deadly strike on a Pakistani marketplace that killed at least 90 people -- most of them women -- are "on the losing side of history," U.S. Secretary of State Hillary Clinton said at a joint news conference with her Pakistani counterpart.
"If the people behind the attacks were so sure of their beliefs let them join the political process, let them come forth to the people and make their case that they don't want girls to go to school, that they want women to be kept back, that they believe they have all the answers," Clinton said in response to the car bombing in Peshawar.
"They know they are on the losing side of history but they are determined to take as many lives with them as their movement is finally exposed for the nihilistic, empty effort that it is."
Pakistani Foreign Minister Shah Mahmood Qureshi also condemned the deadly attack, offering his condolences to the victims and their families and directly addressing the attackers.
"We will not buckle, we will fight you because we want stability and peace in Pakistan," Qureshi said. "You are on the run and we know that. We defeated you in Swat and Malakand. You think by attacking innocent people and lives you will shake our determination? No, sir, you will not."
The blast at the Meena Bazaar killed at least 90 people, most of them women, and injured more than 200 others, according to North West Frontier Province's information minister. The market is a labyrinth of shops popular with women in the Peepal Mandi section of the city.
The attack is the deadliest ever carried out in Peshawar, the capital of North West Frontier Province.
Clinton arrived in Pakistan on Wednesday for a series of meetings with top Pakistani officials.
Talking with reporters en route to the country, Clinton said she wants to "turn the page" on what has been, in the past few years, "primarily a security-anti-terrorist agenda."
"We hold that to be extremely important, and it remains a very high priority," she said. "But we also recognize that it is imperative that we broaden our engagement with Pakistan."
Clinton said there have been "a lot of misconceptions" about American intentions.
"We have a relationship that we want to strengthen, but we don't want it to be lopsided. We don't want it to be just about security and just about our anti-terrorist agenda," she said.
"It is unfortunate that there are those who question our motives, who perhaps are skeptical that we are going to commit to a long-term relationship, and I want to try to clear the air up on that while I am in the country," she said.