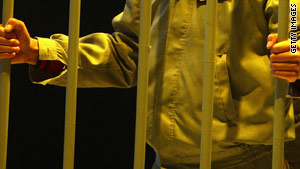 Government officials have adamantly denied that illegal "black prisons" exist.
STORY HIGHLIGHTS
Report: Network of jails await petitioners seeking redress, compensation for injustices
Many are victims of land grabs, physical assault, discrimination and corruption
Government officials have adamantly denied that such facilities exist
Human Rights Watch released a report on the jails this month based on interviews with victims
Beijing, China (CNN) -- Secret, illegal "black jails" exist in China, a state-run weekly has confirmed, despite official denials otherwise.
Chinese citizens in search of justice often end up in such detention centers when they file complaints against the government, the state-run weekly magazine Outlook reported last week.
A network of such jails awaits the petitioners when they travel to Beijing and provincial capitals to seek redress or compensation for injustices. Many are victims of land grabs, physical assault, discrimination and corruption, often at the hands of local officials.
"They come to Beijing out of desperation after they hit a dead end in their localities," said a government official who spoke on condition of anonymity, because he is not authorized to speak publicly.
Government officials have adamantly denied that such facilities exist.
The report by Outlook -- detailing a "gray industry" of illegal detention centers -- also was published online by its parent company, the official Xinhua news agency. It was a rare reference to illegal detention centers in official Chinese media.
A staffer at the Ministry of Public Security's information office declined to comment on the Outlook report, saying "this issue and the reports are irrelevant to our duty and work."
Human Rights Watch released a report this month on the jails. The report is based on interviews with victims, the New York-based aid agency said.
In the report, the agency details how government officials or security forces seize petitioners in Beijing and other Chinese cities, strip them of their possessions and imprison them. Human rights activists and petitioners call them black jails because they operate outside the sanctioned institutions.
"The existence of black jails in the heart of Beijing makes a mockery of the Chinese government's rhetoric on improving human rights and respecting the rule of law," said Sophie Richardson, Asia advocacy director for Human Rights Watch.
Official denials continue.
"I'm not sure what evidence the report of Human Rights Watch is based on," the ministry of foreign affairs said in a statement. "However, I can tell you that there are no such black jails in China."
According to Outlook, local governments send officials to Beijing to set up ad hoc offices to handle the petitioners from their regions.
Once the petitioners file complaints, officials -- worried that they will receive demerits from superiors because of the complaints -- hunt down the petitioners, grab them off the streets and lock them up in rundown hotels, rented houses and nursing homes. Security guards keep petitioners from escaping.
"The aim is for these officials to cajole, pacify or scare the petitioners to return home," the government official said. "Problem is, many of these officials are crude and abusive."
Xinhua referred to a report from an "authoritative department," saying that there are 73 temporary "petitioner-reception offices" in Beijing, among which 57, or 78 percent, are set up by local cities. There are 46 illegal petitioner-reception centers, such as houses rented from farmers.
Yu Jianrong, a researcher at the Chinese Academy of Social Sciences, a government think tank, worries that the illegal actions against petitioners will weaken the effectiveness of the courts set up to resolve social problems.
"The illegal petitioner-handling measures can create new conflicts and instability," Yu said.
The Outlook report does not mean the government will address the issue, one expert said.
"I don't see it as a sign that the central government is planning to ban them," said Donald Clarke, a lawyer and expert on the Chinese legal system.
"Recall that they are already banned -- there is at present no proper legal basis for petitioners being detained there. It is already kidnapping or unlawful detention, from a legal point of view."