By Paul Cruickshank
Special to CNN





Malika el Aroud is currently in a Belgian prison awaiting trial on for participating in a terrorist group after being arrested last December. Paul Cruickshank, who co-produced "World's Untold Stories: One Woman's War" recalls Malika's admiration for Osama Bin Laden when he interviewed her for CNN in 2006.

Read Paul Cruickshank's full account of Malika el Aroud's astonishing story in the March 2009 issue of American Marie Claire.
(CNN) -- Malika el Aroud still loves Osama bin Laden. And she loves him even though he sent her husband, Abdessatar Dahmane, to die.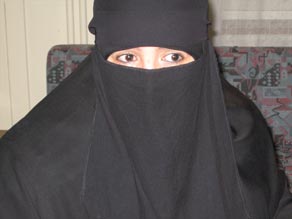 El Aroud: Most Muslims love Osama
On September 9, 2001, Dahmane and another man assassinated Ahmed Shah Massoud, the legendary leader of the anti-Taliban Northern Alliance in Afghanistan.
It was a vital mission: Taliban support needed to be shored up in anticipation of al Qaeda's attack on America. Dahmane, a Tunisian al Qaeda recruit was, like his wife, devoted to bin Laden.
"It's easy for me to describe the love my husband felt because I felt it myself," she said. "Most Muslims love Osama. It was he who helped the oppressed. It was he who stood up against the biggest enemy in the world, the United States. We love him for that."
Our CNN crew was quite taken aback at these words. Before the interview she had kindly fussed over us with an amazing array of cakes and Moroccan tea. But now she was professing devotion to bin Laden and his cause.
We interviewed el Aroud in 2006 on a cold February day in Guin, a small town in Switzerland, north of Fribourg. She lived there with her new husband, a Tunisian named Moez Garsallaoui, whom she gently bossed around. She is a woman who says what she thinks.
El Aroud was open about being a passionate believer in bin Laden's jihad. Together with her new husband, she devoted her time to running a Web site promoting it. When CNN interviewed her she was already under investigation by Swiss authorities for running her radical website.
El Aroud was 46 when we interviewed her. She was covered in black robes from head to toe with just a small slit for her large, expressive brown eyes, dramatically illuminated by our TV lights in her first American television interview.
Gazing into CNN's cameras she told us, "It's the pinnacle in Islam to be the widow of a martyr. For a woman it's extraordinary."
El Aroud was born in Morocco but her family emigrated to Belgium. She was a free-spirited and rebellious teenager. At home she was required to dress in Islamic garb; outside the home she shunned her religion, drinking with her friends and wearing tight miniskirts.
World's Untold Stories
"World's Untold Stories" takes us to places rarely caught on camera. Gritty, powerful tales that open our eyes to a world that is both disturbing and captivating.
Tuesday Feb 10: 1430, 1930 CET 2130, 0230 (Wed) HK | Thursday Feb 12: 1430, 1930 CET 2130, 0230 (Fri) HK | Saturday Feb 14: 1430, 1830 CET 2130 HK | Sunday Feb 15: 0430, 0730, 0030 (Mon) CET | 0130, 1130, 1430, 0730 (Mon) HK

Her life changed dramatically after she was expelled from school for striking a teacher who el Aroud said uttered a racial taunt. She descended into a whirlwind of unsuitable men, drugs, alcohol and nightclubs, until she tried to kill herself with an overdose of pills. At 23, she had a baby with her first cousin.
She said she then became a born-again Muslim and embraced a fundamentalist interpretation of the religion. The strict laws gave her a sense of boundaries. It was in this circle that in 1999 she met and married the man who would kill Massoud.
Her brown eyes seemed to enlarge as she told me about her husband's desire to meet bin Laden, who was living in Afghanistan.
"Abdessater dreamed of being under Osama bin Laden's orders," she said. "Yes, he dreamed of pledging allegiance to him. Oh yes. That was his dream. It was to meet Osama bin Laden and to shake his hand and put himself under his orders."
Her husband became transfixed with bin Laden when he appeared on television calling for jihad against the United States and other countries who oppressed Muslims, she said.
In her self-published book, "Soldiers of Light," she wrote, "He had the impression that it was to himself in particular that Osama was delivering a message."
In mid-2001 Abdessater went to Afghanistan. El Aroud said he was determined to find a theater to fight in, preferably Chechnya. But bin Laden recruited him into al Qaeda, and he trained at a camp in Jalalabad.
When el Aroud went there, determined to open an orphanage, what she saw shocked her. Absolute destitution and the ravages of war were thick in the air, and the couple blamed the United States, which had just implemented sanctions against the Taliban.
Yet el Aroud described this as a happy time; she was reunited with her husband and had been accepted into a close-knit community. Only later did she realize that she had lived in the "middle of Osama bin Laden's clan," a circle, she told CNN, that included bin Laden's wives.
"They seemed happy from what I could tell," she said. "They were radiant, even. Otherwise they wouldn't be married to him. I don't think he was forceful with them."
She said she never met bin Laden -- the women did not socialize with men -- but the al Qaeda leader had a magnetic appeal on her husband and others.
Dahmane never told his wife that he was going to be a suicide bomber, el Aroud said. She said that before he left on his trip he told her he would be back "in a fortnight."
Instead, he and a fellow Tunisian, Bouraoui el Ouaer, posing as television journalists arranged an interview with Massoud. During the interview Malika's husband's colleague exploded his suicide vest.
El Aroud said she learned of her husband's death on September 12, 2001. As she described how the families around her came to congratulate her for her husband's actions there was noticeable tension in her voice. It was a huge shock to her, and for weeks after she was numb with grief, she said.
An al Qaeda courier dropped off a letter from bin Laden that included $500. She said bin Laden had wanted to settle a debt. With the letter came a tape, chillingly from her dead husband in which he told her he loved her but that he was "already on the other side."
Her mourning was interrupted by the beginning of the U.S. bombing campaign on Afghanistan. She escaped to Pakistan where, exhausted, she walked into the Belgian Embassy and asked to go home.
But in Belgium, Malika was put on trial for complicity in the murder of Massoud . The case was dismissed in 2003 for lack of evidence.
When we met her in Switzerland she was undaunted by the investigation into her Web site. The next year she would be convicted on terror charges for running the site and handed a suspended prison sentence. After our interview she ushered us into her bedroom to show us how she ran the forum. As the crew recorded from behind her, a large image popped on her computer monitor -- Osama bin Laden.
• Paul Cruickshank is a Fellow at the Center on Law and Security at New York University and co-producer of "World's Untold Stories: One Woman's War." In 2006 he worked on the CNN Present's documentary, "In the Footsteps of bin Laden, which was presented by Christian Amanpour and based on Peter Bergen's book "The Osama bin Laden I Know." A short section of Cruickshank 's interview with El Aroud was broadcast in the program. The 2006 El Aroud interview was produced by Ken Shiffman and Cliff Hackel and shot by Mark Phillips.
E-mail to a friend