(CNN) -- The execution-style killing of two British soldiers and wounding of four other people in Northern Ireland was "an attempt at mass murder," police said Sunday.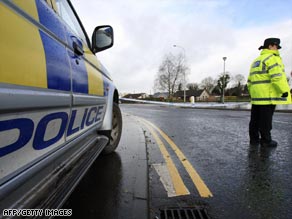 Police have cordoned off entry to the scene of the attack which killed two soldiers.
British Prime Minister Gordon Brown condemned the Saturday night attack as "evil and cowardly," saying "the whole country is shocked and outraged."
The troops are the first British soldiers to be killed in Northern Ireland in 12 years, the Ministry of Defense confirmed.
They were shot as pizzas were delivered to their base in Massereene, in County Antrim, Detective Chief Superintendent Derek Williamson of the Police Service of Northern Ireland said Sunday.

Watch the latest on the investigation »
Two other soldiers and two pizza delivery men were also wounded. The injuries were serious, a police spokeswoman said earlier.
Williamson called the attack "an attempt at mass murder," saying that two gunmen with automatic rifles fired an initial volley of shots, then moved forward and fired a second burst at people lying on the ground before fleeing in a car driven by a third person.
Police have not named the victims, but Williamson described them as "very young men in their early 20s." They were due to be deployed shortly to Afghanistan, he said.
"Our inquiries are concentrating on dissident republicans," said Williamson, referring to militants who refused to join the Northern Ireland peace process.
The attack stirred memories of three decades of violence that has largely faded since the 1998 Good Friday Accord.
Thomas Burns, a member of the Northern Ireland Assembly who represents south Antrim, warned the attack could be a "devastating blow to the peace process," and a return to "bad old days again where people are being killed in open gun attacks. ... You wouldn't want ever to go back to those terrible, terrible old days of killing."
However, Brown said the murders would not derail the peace process in Northern Ireland.
Don't Miss
"I assure you that we will bring these murderers to justice," he said. "No murderer will be able to derail a peace process that has the support of the vast majority of the people of Northern Ireland."
Gerry Adams, leader of Sinn Fein, the former political arm of the IRA, said the attack was "wrong and counterproductive."
"Last night's attack was an attack on the peace process," he said. "Those responsible have no support, no strategy to achieve a united Ireland. Their intention is to bring British soldiers back on to the streets. They want to destroy the progress of recent times and to plunge Ireland back into conflict."
The U.S. State Department condemned the attack in a statement.
"We call on all parties in Northern Ireland to unequivocally reject such senseless acts of violence, whose intention is to destroy the peace that so many in Northern Ireland have worked so hard to achieve," department spokesman Robert Wood said.
No group immediately claimed responsibility for the attack.
Tensions in the region have ramped up in recent days.
Last week, Hugh Orde, chief constable of the Northern Ireland police, requested that a British military intelligence regiment help investigate what he called increased activity among dissident republican groups.
Sinn Fein warned against bringing in the troops, saying their presence would stir bad feelings among Catholics.
"There can be no place for so-called British Special Forces within any civic and accountable policing structures," Adams said Saturday.
Shaun Woodward, the British government minister responsible for Northern Ireland, pointed out that the soldiers killed were not there to police the province.
"Operation Banner has ended," he said, a reference to the 37-year British military deployment in Northern Ireland. The operation lasted from 1969 to 2007.
"The soldiers who are here now are actually for deployment elsewhere in the world," he said, calling the troops at the base "men and women about to be deployed to Afghanistan ... [doing] humanitarian work, protecting people's lives in another part of the world."
The attack happened about 200 yards from a police station where suspected militants are believed to have recently been detained and questioned.
William McCrea, a member of Parliament from the loyalist Democratic Unionist Party and a Presbyterian minister, was mourning what he called "a very grievous evening."
"Our soldiers are fighting in Afghanistan to defeat terrorism, but this is on our own doorstep," he said. "We can't go back to that."
Northern Ireland is part of the United Kingdom. Split between Catholics and Protestants, it was racked for decades by violence between Protestants who wanted to remain part of the UK and Catholics who wanted to join the Republic of Ireland, which is independent.

Violence spilled over into Britain, with the IRA bombing cities including London and Birmingham. For nearly 30 years, British soldiers patrolled Northern Ireland in armored vehicles and hunkered down in bases surrounded by concrete walls and barbed wire.
Northern Ireland now has a power-sharing government and a prevailing peace that had been welcomed by all but radical splinter groups on both sides.
E-mail to a friend

All About Northern Ireland • Gerry Adams • Sinn Fein