By Ivan Watson
CNN





ISTANBUL, Turkey (CNN) -- At least five people were killed and dozens more wounded in clashes as municipal elections were held across Turkey.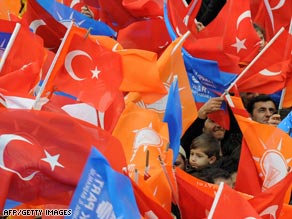 Turkey's local elections are widely seen as a referendum on the prime minister's party.
Early election results suggested the ruling political party, led by Prime Minister Recep Tayyip Erdogan, won the overall election as predicted. However, Erdogan's Justice and Development Party, or AKP, appeared to have slipped several percentage points, compared to its landslide victory in 2007 parliamentary elections.
The preliminary results suggest the AKP lost some ground to an Islamist party and a Kurdish nationalist party.
More than 90,000 positions are up for grabs Sunday, from the mayor of Turkey's largest city, Istanbul, which has a population of more than 12 million, to the muhtar, or headman, of the smallest Anatolian village.
The election is widely seen as a referendum on the AKP. Erdogan's party has been in power since it captured a majority of seats in parliamentary elections in 2002.

Watch profile of Erdogan »
Turkey imposes tight restrictions during elections. The sale of alcohol is banned across the country on election day. People are forbidden to carry firearms.
That did not prevent a series of fatal shootings near polling stations in eastern Turkey, which left at least two candidates for local office dead. The official Anatolian Agency reports a candidate for muhtar in the village of Bezirci was killed after a fight broke out with a rival candidate. At least 16 other people were wounded as rival supporters clashed with stones, sticks and firearms.
In a separate incident, an argument over an election turned into a gun battle in Kars Karabag village, according to the state Anatolian news agency and the Dogan News Agency (DHA). Muhtar candidate Zeki Demir was killed and five others injured. Authorities instituted security measures in the village after the incident, according to the reports.
In the village of Siginak in Diyarbakir province, a fight broke out between families of rival muhtar candidates. One person died, according to DHA and Anatolian reports, and four others were injured.
In Sanliurfa, a rivalry between two muhtar candidates turned into a fight, first with sticks and stones, then with firearms, the news agencies reported. The battle involved the whole village and only ended after police arrived. Muhtar candidate Muslum Babacan died, and 12 others were injured, according to Anatolian and DHA.
On the campaign trail, Erdogan touted the solid economic growth Turkey enjoyed during his first six years in power. That record has slipped recently, with unemployment reaching a record high in January, as Turkey was buffeted by the global economic crisis.
Critics argue Erdogan has not followed through on promises to advance reforms to get Turkey into the European Union.
"This is a warning vote against the governing party," said bookseller Istiklal Kozan, as he left a polling station in Istanbul's Beyoglu neighborhood. Kozan said he was an Erdogan supporter, but added that he cast a protest vote to show his frustration with the AKP's lack of progress in negotiations to join the EU.
Erdogan's government has been embroiled in a power struggle with Turkey's secular establishment, which includes the military and the judiciary.
"There has been an intensive struggle for Turkish democracy," Erdogan said Sunday while casting his ballot in Istanbul, according to DHA. "Our nation's choice will emerge from this struggle."
In the runup to Sunday's vote, competition was fierce in some key cities where the AKP has tried to capture positions from Turkey's splintered opposition groups.
A brawl broke out last week in the predominantly Kurdish city of Diyarbakir in southeastern Turkey, between AKP supporters and followers of a Kurdish nationalist party known as the DTP.

Meanwhile, political parties suspended campaign rallies in the last days before the election after a helicopter crashed in the snowy mountains of Eastern Anatolia on Wednesday, killing Muhsin Yazicioglu, the head of the fringe Great Union Party and five other passengers.
Nineteen parties are competing in the elections.
E-mail to a friend

CNN's Yesim Comert contributed to this report.
All About Turkey • Recep Tayyip Erdogan • Kurdish Politics