(CNN) -- Many survivors from the earthquake which has devastated central Italy have found themselves homeless, terrified -- and wondering what the future now holds.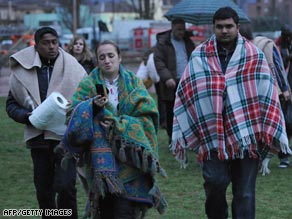 Survivors from the Italian earthquake have now started to ask what the future holds for them.
Aftershocks have continued to strike following Monday's 6.3-magnitude quake, in the mountainous Abruzzo region surrounding the city of L'Aquila.
The most severe, a 5.6 magnitude tremor that struck the area Tuesday night, according to the U.S. Geological Survey, reminded many survivors of the original quake, which left at least 250 dead and thousands more homeless and injured.
Antonieta Vista Bagnio, now living in a tent in L'Aquila, moved to Italy from the Philippines in 1984 and has a job caring for the elderly. She says she has always worked, never asking the government or other people for help.
But now she says she faces an uncertain future. Aside from the loss of her own home, her employer's house has also been destroyed.
"How can we live now, we have no house -- look at our situation. All the employer's house was cracked," she told CNN's Diana Magnay. "We have no work now."
Her six-month old niece has been taken ill and received medical attention. "The first day we are here we are not sleeping because we have no tent. That is why my niece is not so well," she explains.
Now Bagnio is looking to the authorities for longer-term help. "Every night we are altogether praying."
CNN producer Carol Jordan said that people in the camps had been happy with the response so far from the authorities, including food, shelter and medical care. "We've even seen clowns down here keeping the kids entertained," she said.

People had generally been milling around talking not lining up for food, she added. During the day the temperature in the camps had been quite warm but had fallen to around four degrees Celsius during the night.
But many people were now looking to the longer term and asking just what will happen to them. "The question they are asking is: 'What if I can't go back to my home'?" Jordan said.
In the village of Onna, at least 40 of the 300 residents were killed by the quake. They include Anna Rita Difilice, whose 20-year-old son Fabio died. Like many in the region, she is determined to stay.

Watch the impact of the quake on Onna »
"My son died here, there is no way I'm leaving this town," she told CNN's Paul Newton, "not ever, I'm staying here."
And then there are the aftershocks and their impact on those who have already watched loved ones perish. Read blog describing the aftershocks
"They are really freaking people out," said Jordan. "As soon as it happens people get extremely jumpy. It is seriously unnerving."
Magnay said that Tuesday's "enormous jolt" only lasted three or four seconds but seemed to go on much longer.
"You are immediately aware of what you have above you," said Magnay who was in a hotel in the town of Celano at the time of the tremor. "The streets suddenly filled with people." iReport.com: Waiting to hear from friends in Italy
She said that the aftershock reminded many locals of the original quake. "They said it felt interminable, as though the earth would not stop shaking. Those seconds seem to last much longer than you ever thought."
Volunteer Antonio Giovanneli, who like many aid workers had not slept for three nights, told Magnay in L'Aquila that for many of those now living in tent villages or sleeping in cars, the aftershocks were adding to their trauma.

Watch interview with volunteer aid worker »
"They are scared. They would like to know when it will stop," he explained. "But it seems the earth does not want to stop. "

He said that people were concerned for family members. "They would like to go back home, even if for many of them there is no house."
Survivor Ilaria Ciani, who has been staying in one of the tents close to L'Aquila, said, according to Reuters.com: "In the last two nights, I've slept three hours at most.

"I feel physically and mentally tired from the lack of sleep and the fear."
E-mail to a friend

CNN's Carol Jordan, Paula Newton and Diana Magnay contributed to this report.
All About Italy • U.S. Geological Survey