LONDON, England (CNN) -- The British government did not make a deal to send the Lockerbie bomber home in exchange for an oil contract with Libya, Prime Minister Gordon Brown's office said Monday.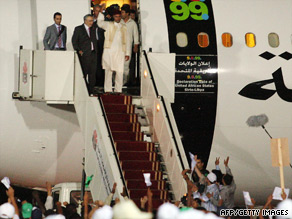 Abdelbaset Ali Mohmed al Megrahi (second from left) arrives in Tripoli, Libya on August 21.
"There was no deal over the release" of Abdelbeset Ali Mohmed al Megrahi, a spokesman for Brown told CNN.
The government was responding to reports that the British government wanted al Megrahi to be eligible for release in order to smooth the way for the British oil giant BP to win exploration rights in Libya.
"The central assertion in this story is completely untrue and deeply misleading," Brown's office said in response to a story that originated in the Sunday Times.
But Justice Minister Jack Straw acknowledged Sunday that a key element of the story was correct -- that Libya had demanded al Megrahi be included in a prisoner transfer agreement, and that, after initial resistance, the UK agreed to the demand.
Al Megrahi, 57, had been serving a life sentence for bombing Pan Am Flight 103 over the Scottish town of Lockerbie in 1988, killing 270 people, including 189 Americans. He was freed earlier this month because he has terminal cancer.

Watch more about suspicions of a deal »
Straw confirmed Sunday that he had tried -- and failed -- to keep the bomber out of an agreement to send Libyan convicts back to the north African nation to serve their sentences there.
But he insisted that the concession to Libya was irrelevant to the release of al Megrahi, since the bomber was freed on compassionate grounds, not as part of a deal with Libya.
"This debate is academic," Straw said. "There has been no release under the prisoner transfer agreement."
Scottish First Minister Alex Salmond echoed Straw's position.
"(Scottish Justice Minister) Kenny MacAskill rejected transferring (al Megrahi) under the prisoner transfer agreement and instead kept faith with the Scottish judicial system by releasing Mr. Megrahi on compassionate grounds because he was dying from terminal cancer," Salmond told CNN affiliate ITN.
MacAskill had jurisdiction over al Megrahi because he was jailed in Scotland.
But Pamela Dix, whose brother was killed on Pam Am Flight 103, told ITN, "I think it would be naive to feel that international trade had nothing to do with relations between Libya and the United Kingdom and discussions around Megrahi.
"However, I would have expected the British government to put the safety and security and getting to the bottom of the biggest mass murder in this country to come before any such considerations," Dix said. "For Jack Straw to indicate that it is academic to discuss the prisoner transfer agreement because Megrahi was released on compassionate grounds is an insult."
Dix said she is concerned that "we will never get to the bottom of what happened."
The Sunday Times claimed that Libya had insisted that al Megrahi be freed before it would approve an enormous contract with BP.
BP announced the deal in May 2007, promising an initial investment of $900 million to explore two Libyan areas -- one the size of Belgium and the other as large as Kuwait.
But Libya did not approve the deal until after London dropped its objection to releasing al Megrahi, the Sunday Times alleged.
It said Straw had written to MacAskill in December 2007, saying "wider negotiations with the Libyans are reaching a crucial stage" and that he was dropping his effort to exclude al Megrahi from a prisoner transfer agreement "in view of the overwhelming interests of the United Kingdom."
CNN has not confirmed the contents or the existence of the letter.
Libya's parliament approved the BP exploration deal four days after the alleged Straw letter was dated.
The United States opposed al Megrahi's release, and President Barack Obama said the hero's welcome al Megrahi received on his return to Libya was "highly objectionable."
Former South African President Nelson Mandela supported the release of al Megrahi, a Scottish government representative told CNN Sunday.
Prime Minister Brown's political opponents Sunday demanded an investigation.
"We need a select committee inquiry so ministers and officials can be questioned about exactly what was said and done over relations with Libya," David Lidington of the opposition Conservative party said.
Brown's Labour government "will not now escape the suspicion of a terrorist-for-trade deal unless they agree to the transparency of a full inquiry," Liberal Democrat Edward Davey said. "The Prime Minister can no longer hide behind (Scottish government) compassion for a sick man when it seems compassion for commerce was at the center of his government's thinking."

BP declined to comment on the story.
"We were not a party in any governmental agreement and we are not aware of any such deals, and thus we have no specific comment," a spokesman told CNN.
E-mail to a friend

--CNN's Per Nyberg contributed to this report.
All About Pan American Airways • Lockerbie • Libya