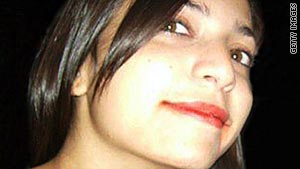 The family of Meredith Kercher say they will never get over her death.
STORY HIGHLIGHTS
Meredith Kercher was found dead with a stab wound to her neck
Amanda Knox and former boyfriend Raffaele Sollecito on trial over murder
Prosecutors say Knox, Sollecito and a bar owner killed Kercher during a sex game gone wrong
Knox has denied this saying conflicting statements she made were due to police pressure
London, England (CNN) -- It has been two years since the body of 21-year-old Meredith Kercher was found in the house she shared with fellow students in Perugia, Italy.
Months may have passed but her parents, John and Arline Kercher, say they are still struggling to comprehend what happened and why.
In a short statement commemorating their daughter's murder, the Kerchers said: "The two years since Meredith's death have passed very quickly. But, we still miss her more than ever."
"We can only hope now that a conclusion is reached in the next five weeks, so that we can finally dedicate ourselves to remember Meredith for the person that all of us knew and not as a victim or as a news item."
On November 2, 2007, Meredith's partially-dressed body was discovered. She had suffered a stab wound to her neck.
The case generated headlines worldwide, not least because one of the suspected murderers was a young American woman who prosecutors allege was involved with two males in a "drug-fueled sex game," which led to Kercher's death.

Video: Knox trial continues
The trial of 22-year-old Amanda Knox and her former boyfriend Raffaele Sollecito, 25, from Italy, started in an Italian court in January and is set to draw to a close later this month.
They are accused of sexual assault and murder. Both deny all charges.
In June, Knox took the stand to deny allegations that she was at the villa she shared with Kercher the night of the murder November 1, 2007. She was with Sollecito at his house that night, she said.
She said that any conflicting statements she made to police during questioning were a result of police pressure, their suggestions, and her confused and frightened state of mind.
In the media, Knox's parents have mounted their own defense for their daughter.
Two weeks ago, they appeared on CNN's "Larry King Live" to proclaim their daughter's innocence.
Curt Knox told CNN his daughter was targeted as a suspect from the beginning.
"I believe that there was a huge mistake made very, very early on by, you know, having a -- literally -- a 'case closed,' you know, presentation by the police over there," he said.
In contrast, Kercher's parents have kept a low media profile. They have broken their silence on a few occasions to express their grief.
In Britain's The Daily Mirror newspaper, John Kercher described the gut-wrenching moment he learned that the British student killed in Perugia was his daughter.
"I drop the phone. I don't believe it and think there must be a mistake. But I know it's probably true. I can't cry. I'm numb with shock," he wrote in June.
He spoke with Meredith Kercher on the phone just the day before. She called from Perugia where she studied European politics and Italian through the Erasmus program with Leeds University.
She had been in Perugia for only two months.
The family would never get over her death, her mother, Arline, said in court at the start of the trial.
"It was unbelievable, unreal and in many ways it still is -- I am still looking for her. It's not just her death, it's the nature of it, the brutality, the violence and the great sorrow it brought for everyone -- it was such a shock."
"You send your daughter away to study and she doesn't come back. We will never, ever get over it," she told the court.
On Sunday, the family held a private ceremony to remember their daughter, "as Meredith would have liked," they said in a statement from their lawyer. The congregation at the family's local church were asked to say prayers for her; afterwards the family planned to lay flowers on her grave.
They hope now, two years after the intense shock, that the conclusion of the trial will bring them some closure.
However, their pain may yet be prolonged by any subsequent appeals.
The third person charged with Kercher's murder, 22-year-old Rudy Guede from the Ivory Coast, is appealing his conviction. He was found guilty in October 2008 and sentenced to 30 years in prison. His case is due to be heard in late November.