GAZA CITY (CNN) -- The Israeli air force bombed the homes Thursday of two top Hamas military figures, killing at least one of them.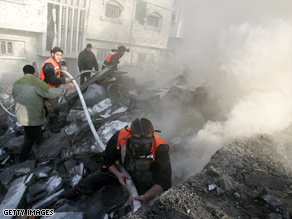 Palestinian firefighters pour water Thursday on the rubble of the home of Hamas commander Nizar Rayan.
The Israel Defense Forces also struck a mosque that it said was a hub for Hamas fighters and used to store missiles, rockets and other weapons, it said Thursday.
The attacks came on the sixth day of Israeli air strikes against Gaza, which is tucked between Israel and Egypt and has been used as a staging ground for sporadic rocket attacks by Hamas into Israel.
Palestinian medical sources said at least 400 people have been killed in Gaza since the Israeli raids began Saturday, and 2,000 have been wounded.
Officials in Israel said four people, three of them civilians, have died from Palestinian rocket fire. Another 56 have been wounded, emergency medical services reported.
The Hamas television station Al-Aqsa showed the body of Nizar Rayan, one of the main founders of Hamas and a commander in northern Gaza, being pulled from the rubble of his house in Jabaliya, north of Gaza City.

Watch aftermath of rocket attack on Rayan's house »
The Islamist University lecturer "ranked among Hamas' top five decision-makers as the liaison between the group's military and political wing," the paper said.

Learn who's who in Gaza »
The newspaper also described him as an "outspoken advocate of renewing suicide bombings against Israel."
Nine other people also died in the attack, Hamas and Palestinian medical sources said, some believed to be members of Rayan's family.

Watch how civilians are caught in the crossfire »
Rayan had urged Gazans not to abandon their homes during the Israeli air attacks, even if they received threats to evacuate, Arab media reported.
"We call on our people and the resistance groups -- along with al-Qassam Brigades -- to revenge for the blood of the imam, leader and martyr Nizar Rayan, as well the blood of our people's martyrs," Hamas leader Ismail Redwan said in a eulogy broadcast on Al-Aqsa.
The al-Qassam Brigades are the military arm of Hamas.
Video showed crowds of men outside the remains of Rayan's house, shouting as they climbed mounds of debris, pulling bodies from the rubble and searching for other victims. Nearby buildings were heavily damaged.
Don't Miss
Elsewhere in Jabaliya, Israeli aircraft also hit a mosque described as a "terror hub" used as a center of operations for Hamas, "a meeting place for its operatives and a staging ground for terror attacks."
The IDF said weapons stored in the mosque triggered a large fire and secondary explosions.
"The IDF will continue to attack any target used for terrorist activity, and will not hesitate to strike those involved in terrorism against the citizens of the State of Israel, even if they deliberately choose to operate from locations of religious or cultural significance," a statement said.

Watch people run in the aftermath of an Israeli airstrike »
An airstrike also hit the Gaza City home of senior Hamas military operative Nabil Amrin, causing weaponry stored inside to explode, the IDF said.
There was no word on possible casualties, and the IDF said they didn't know whether Amrin was home at the time.
The attacks were among dozens Thursday in northern Gaza in what Israel says is a response to ongoing Hamas rocket fire into southern Israel. The IDF said in a statement that more than 40 rockets fell in Israel, and it carried out over 50 airstrikes on Gaza.
The military has said it is targeting only Hamas militants, and Hamas has vowed to defend Gaza in the face of what it calls continued Israeli aggression.

Watch CNN's Rick Sanchez talk to a Palestinian man about the conflict »
In Paris, Israeli Foreign Minister Tzipi Livni met with French President Nicolas Sarkozy and Foreign Minister Bernard Kouchner, whose truce proposal was turned down Wednesday by Israel. It would have stopped the fighting temporarily so more humanitarian aid could reach Gaza.
The six days of Israeli airstrikes on Gaza have "achieved changes," Livni said.
"We want to weaken Gaza," Livni said. "At the end of the day, Hamas is a problem, not only to Israel but to the entire Palestinian people," Livni said.
Palestinian militants continued to fire rockets into southern Israel. The Israeli military said four struck Beer Sheva on Wednesday, and at least two medium-range rockets struck the community Thursday. Beer Sheva is about 19 miles outside Gaza.

Watch how emergency responders have dealt with the crisis »
Israel targeted the Palestinian parliament building in Gaza City overnight, gutting the structure. The ministries of justice and education and civil defense headquarters, to the city's west, also were bombed.
Also Thursday, Israel announced that it had closed its borders with the West Bank until midnight Saturday. The closures to the Palestinian territory coincides with the Muslim holy day Friday and the Jewish Sabbath on Saturday.
Earlier, Hamas had called for demonstrations Friday at mosques in the West Bank and at the Al Aqsa mosque in Jerusalem's Old City.
E-mail to a friend

CNN's Talal Abu Rahma, Saad Abedine, Ben Wedeman and Shira Medding contributed to this report.