(CNN) -- Israel's ground incursion into Gaza will be lengthy and risky but is necessary to halt the barrage of Hamas rockets into southern Israel and restore peace to Israelis, Defense Minister Ehud Barak said Saturday.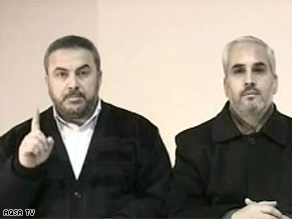 Hamas spokesmen Ismail Radwan, left, and Fawzi Barhoum appeared Saturday on television station Al-Aqsa.
Yet Hamas vowed to "fight until the last breath," warning Israel that "Gaza will be your cemetery" as ground forces enter the Hamas-controlled territory Saturday night.
As night fell on the eighth day of the bloody conflict, both sides remained defiant, vowing to stand their ground and accusing each other of provoking the clash.
At least four Palestinians have been killed as a direct result of Israel's ground assault in Gaza, Palestinian medical sources said. At least 460 Palestinians have been killed and 2,750 injured in eight days of Israeli airstrikes, medical sources said.
Israeli police and military officials said four people -- three of them civilians -- have died in the weeklong fighting. Another 57 have been wounded.
"We will not abandon the battlefield, and we will stay on the thorny course and we will fight until the last breath," Hamas spokesman Ismail Radwan said in a statement on the Palestinian television station Al-Aqsa.

Watch Hamas' statement »
"Your incursion to Gaza will not be a picnic, and Gaza will be your cemetery, God willing. You have no choice but to end this aggression and end the siege without any condition. You will not live in peace until our Palestinian people live in peace," Radwan said, reading from a statement as Fawzi Barhoum, the Hamas spokesman in Gaza, sat next to him.
"God is great, and the victory will be that of the mujahedeen."
The spokesman also referred to an Israeli airstrike that hit a mosque in the northern Gaza city of Beit Lahiya on Saturday, killing 13 people and wounding more than 60, according to Palestinian medical sources.
"The aggression continues against our people, universities, mosques and everything that is there. The Zionist enemy targeted the houses of worship, the mosque -- and the worst was today when they targeted the Ibrahim Maqadmeh mosque, killing dozens of civilians," he said.
Don't Miss
"What crime can be worse than this? This is happening in front of the eyes of the Muslim and Arab world."
But Israel's defense minister said he "thought and thought" about Saturday's incursion before giving it the green light, ultimately deciding that it was necessary to protects his people from a barrage of Hamas rockets.
"We do not go to war happily, but we shall not abandon our citizens who are constantly being targeted by Hamas attacks," Barak said Saturday.
"I know perfectly well what the risks are," he said. "This will not be short; this will not be easy. I don't wish to delude anyone. And the coming days will be difficult also for the residents of the south."
He said Israel is "fully aware" of the challenges, difficulties and fatalities posed by the ground incursion but insisted that the nation "has a duty and responsibility" to its citizens.
"We have bitten our lips for a long time," Barak said. "But now, the time has come to do what we have to do. ... We are ready to deal with a complex battle."
E-mail to a friend