GAZA CITY (CNN) -- Thousands of Israeli troops pushed into Gaza, essentially splitting north from south by Sunday, the second day of the ground incursion.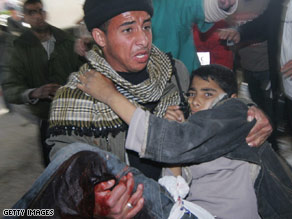 A Palestinian youth is taken to a Gaza hospital overflowing with patients.
The troops, backed by tanks, artillery and helicopters, gained control of parts of northern Gaza on Sunday, according to Palestinian security sources.
The ground push has resulted in mounting casualties on both sides, as Israel continues the air assault it started on December 27. More than 500 Palestinians were killed over the past week, according to Palestinian medical sources.
"Every couple of minutes we hear an explosion," Safa Joudeh, a Gaza City resident, told CNN early Monday. "We can see tanks coming closer and closer into Gaza."
She said most residents are confined to their homes, without electricity and running out of food and water.
Palestinian medical sources say Israeli forces have killed 37 Palestinians -- both civilians and militants -- since moving into the territory Saturday night.
With those deaths, at least 507 Palestinians, including about 100 women and children, have been killed since Israeli airstrikes began December 27, and 2,600 Palestinians have been injured, most of them civilians, sources said.
An Israeli soldier was killed and another seriously wounded near Jabalya in northern Gaza, according to the Israeli military. It marks the first Israeli military death since the ground operation was launched Saturday night.
Israeli forces killed three senior members of Hamas' military wing on Sunday, Hamas sources told CNN.
One was killed near Jabalya and the other two died in an airstrike in southern Gaza, the sources said.
Housam Hamdan and Mohammed Hilou -- both senior members of the Izzedine al-Qassam Brigades -- were killed in an airstrike in Khan Yunis in southern Gaza, Hamas sources said.
The Israeli military said it was targeting the two senior Hamas members but gave no indication of their status.
Israel Defense Forces said Hamdan is responsible for firing long-range Grad rockets into Beer Sheva and Ofakim in southern Israel. IDF said Hilou is a commander of Hamas special forces in Khan Yunis and is also responsible for launching long-range rocket attacks at Israel.
Hamas sources said Israeli forces in Jabalya killed Mohammed Shalpokh, a member of Hamas commando forces which Israel blames for launching rockets from northern Gaza.
The Israeli military said on Sunday Israeli missiles targeted 45 Hamas locations overnight, including the Hamas intelligence headquarters. During the day, the Israeli Air Force attacked over 15 targets, including the three senior Hamas members, as well as rocket-launching sites and squads, armed gunmen, and a smuggling tunnel, the military said.
Don't Miss
The Israeli military said the ground incursion is the second phase of the operation to stop militants from firing rockets and mortars into southern Israel.
Four Israelis -- one soldier and three civilians -- have been killed in the ongoing rocket strikes, Israeli officials said.
At least 30 rockets, including 12 Grad rockets, were launched from Gaza into southern Israel on Sunday, the IDF said. iReport.com: Share reactions to 'all-out war' in Gaza
One Israeli was slightly wounded when a rocket landed in the southern Israeli city of Ashdod, according to Israeli ambulance services.
Not long after Israel's ground incursion began, Hamas vowed to "fight until the last breath" and warned Israel that "Gaza will be your cemetery."

Watch the conflict unfold on both sides »
"We will not abandon the battlefield, and we will stay on the thorny course, and we will fight until the last breath," Hamas chief spokesman Ismail Radwan said in a statement on Palestinian network Al-Aqsa.

Watch statement from Hamas »
E-mail to a friend

CNN Senior International Correspondent Nic Robertson contributed to this report.