TEHRAN, Iran (CNN) -- Iranian authorities arrested a woman Wednesday who worked as a secretary for two human rights groups funded by Nobel peace laureate Shirin Ebadi.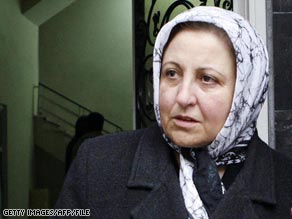 Nobel winner Shirin Ebadi in December leaving the building where arrested Jinous Sobhani used to work.
Speaking to CNN, Ebadi said it was unclear why Jinous Sobhani was arrested, noting that she had recently been laid off from the non-governmental organizations after they were shut down by Iranian authorities last month.
"Why should a woman who used to work for our NGOs be arrested?" the Nobel laureate asked. "I think this may be an effort to exert pressure on the Defenders of Human Rights and the Organization for Defending Mine Victims."
Ebadi said her organizations are working to secure a lawyer to represent Sobhani.
The woman's husband told Ebadi that Iranian judiciary security personnel had an arrest warrant for Sobhani and seized her early Wednesday at her Tehran home.
In addition to taking her into custody, they also confiscated her computer case, her mobile phone, and her address book, Ebadi said.
In late December, government agents raided Ebadi's law office -- which is in the same building as her apartment -- seizing two computers and dozens of files and documents on her clients, who are mostly political activists.
Her offices were shut down on December 21 during a police raid as guests arrived for a belated celebration of the 60th anniversary of the U.N.'s Human Rights Day.
Iranian authorities said the Center for the Defenders of Human Rights did not have a permit for the gathering.
That sparked condemnation by the European Union, which called on Iran "to respect their international human rights commitments and the right to peaceful assembly."
U.N. Secretary-General Ban Ki-moon also issued a statement of concern about the crackdown on Ebadi's organizations.
Ebadi, a former judge and veteran human rights activist, won the Nobel Peace Prize in 2003.
Other peace prize winners have launched a letter-writing campaign to the United Nations and to Iranian embassies around the world in an effort to raise concerns about her safety.
E-mail to a friend

All About Iran • Human Rights Policy