BAGHDAD, Iraq (CNN) -- Suicide bombers killed 60 people near a holy Shiite shrine in Baghdad on Friday and a car bomber left seven people dead in Diyala, according to security and medical officials.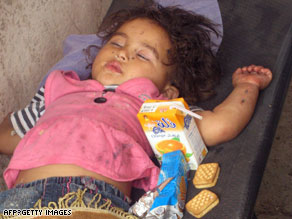 A little girl whose parents are missing in the Baghdad bombings Friday rests in a hospital.
Along with the 60 dead, many of whom were Iranian pilgrims, at least 125 others were wounded when two female suicide bombers struck on roads leading to the Imam Musa al-Kadhim shrine, one of the holiest in Shiite Islam, the Interior Ministry said.
The Iranians who were killed and wounded were on a pilgrimage to holy sites in Iraq, an Interior Ministry official said.
The bombers hit the Kadhimiya neighborhood of Baghdad, where the shrine is located, on the Muslim day of prayer. Iraqi State TV reported that Prime Minister Nuri al-Maliki has ordered an investigation.
The top U.S. commander in Iraq, Gen. Raymond Odierno, told CNN's "American Morning" on Friday he believes Iraqis won't be "intimidated by the attack" and "they will not let this stand in their way of moving forward."

Watch the scene at the hospital as victims of the shrine attacks arrive »
Later on Friday, a suicide car bomber detonated explosives in Diyala province, killing at least seven people and wounding 29 others.
The bomber attacked a car dealership in Jawlawla, a town that has been the center of a territorial dispute between the central government and the Kurdistan Regional Government.
Fridays attacks follow the deadliest day in Iraq this year, in which 87 people were killed in attacks, after months of plummeting violence.
Many of the dead on Thursday were also Shiite pilgrims from Iran. Friday's bombings were the third attack on Kadhimiya this month.
Reaction was swift in predominantly Shiite Iran. The media reported that Reza Moussavi, spokesman of Iran's Cultural Heritage, Handicrafts and Tourism Organization, announced a ban on Iranians crossing into Iraq via the Khosrawi border for pilgrimage until further notice.
Javad Jahangirzadh, a member of Iran's parliament, was quoted as saying the aim of the attackers "was to show that the Iraq government was not successful and not performing well.
"There must be a plot behind all of this aimed at damaging the growing relationship between Iran and Iraq."
Iranian President Mahmoud Ahamedinejad earlier issued condolences for the Iranian pilgrims killed on Thursday.
"The report on martyrdom and injury of a group of dear compatriots, who were on their way to holy sites [in Iraq], has caused deep sorrow," he said. "The incident once again showed that the results and gift of occupation and terrorism for regional nations are insecurity and innocent people's bloodshed," he said.
Odierno said "this spike in suicide attacks that we've seen over the last couple of days, frankly, is another tragic event caused by al Qaeda and their links. They are killing many innocent people. They are killing pilgrims going to pray. They're killing women and children. They're killing homeless."
The violence erupted as the Obama administration plans to withdraw American troops from Iraq. The U.S.-Iraqi security agreement negotiated last year set a June 30 deadline for combat troops to be pulled out of urban areas.
The Iraqi government could request that combat forces remain in some cities and the agreement could be amended. The agreement calls for the withdrawal of all U.S. troops from Iraq by the end of 2011.
Odierno was asked what effect the violence will have on that deadline and whether the volatile city of Mosul -- where al Qaeda in Iraq has had a potent presence -- would be included in the combat withdrawals.
"The one area I'm still not sure about is Mosul," Odierno said.Most of the 87 people who died Thursday were killed in a bombing in Diyala province, in which 55 died, and an attack in Baghdad that killed 28.

Many of the dead in the Diyala attack were also Shiite pilgrims from Iran.
In the Baghdad attack, a female suicide bomber struck as national police were helping distribute Red Crescent aid to displaced families in the Karrada district.
E-mail to a friend

CNN's Yousif Bassil, Jomanah Karadsheh and Cal Perry contributed to this report.
All About Iraq • Suicide Attacks • Diyala Province