By Iolanda Jacquemet
ICRC





This year marks the 150th anniversary of the Battle of Solferino which led to the creation of the International Committee of the Red Cross. The ICRC is using the date to launch an awareness campaign of its work in conflict-affected countries, featuring photos taken by five award-winning photojournalists. This week we're bringing you stories from some of the world's most troubled countries, as told by the ICRC.
SAIDA, Lebanon (ICRC) -- Muhammad Hajj Moussa was only 11 years old when he lost both his legs. It is not at all easy for the teenager to speak about "that day," when his life was plunged into despair. He does so haltingly, in very short sentences, before ending in silent tears.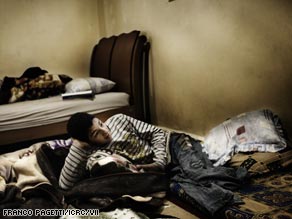 Muhammad Moussa does not go to school. The school in his refugee camp has no facilities for disabled children.
It was on August 11, 2006, just 13 days short of his twelfth birthday. "I went with my dad to take food for some people who were stuck in Smaiya," he explains.
War was raging in southern Lebanon at the time. Muhammad and his father thought there was some sort of ceasefire in place, so they felt relatively safe. That is, until the motorcycle hit an obstacle on the road.
"My father was hurt and I fell off the motorbike into a hole and I remember something blew up," Muhammad recalls.
The detonation of the cluster bomb set Muhammad's body on fire. "I made it to the river and the (Red Cross) volunteers pulled me from the water. I remember my legs were falling apart."
He also remembers pleading with them to pick up his father, who was lying at some distance and had been initially overlooked by the first aid team.
Muhammad's father was not too badly hurt but the child had lost both legs, and he still bears marks of the terrible burns he endured that day.
Don't Miss
"Whenever we touched his leg, he was in tremendous pain," says orthopedic specialist, Bassam Singer, who is working to help the victims of cluster bombs recover a semblance of normalcy. He describes Muhammad as one of his most successful patients.
Before Muhammad came to Singer's orthopedic workshop in Saida, in southern Lebanon, he had already endured repeated surgeries and lengthy sessions of physiotherapy.
During that time, Singer spent time by Muhammad's side, visiting the boy in the Palestinian camp of Rashidiyyeh, near the town of Tyre, further south. The Moussas are one of many families of Palestinian refugees in Lebanon.

See photos taken by award-winning photojournalist Franco Pagetti »
Once the surgeries were over, the work at the orthopedic center started. Painstakingly, the child had to train for four hours every week day, but he did so to the great satisfaction of his mentor. "Muhammad by nature is someone who cooperates very easily. He is very strong-willed and quickly improved. In the last stage, he was also able to climb stairs alone," adds Singer.
The boy nonetheless needs careful follow-up: A new set of prosthesis every year as long as he is growing, and monthly follow-ups in the center to monitor the level of his adjustment to his artificial limbs.
A case like Muhammad's was nothing new for Singer. "In our clinic here, almost 80 percent of the patients have injuries resulting either from an air strike, or a landmine or cluster bomb," he says.
It is not what the Lebanese specialist, 34, was expecting when he opened his clinic after training with the International Committee of the Red Cross (ICRC) in the early 1990s. The Lebanese Civil War had ended and he was expecting to look after people who had had amputations following road accidents or severe diabetes.
Red Cross/Crescent Web sites
Instead, Lebanon's repeated outbreaks of violence keep bringing in new victims of conflict. "Many of our patients come from South Lebanon and are just like Muhammad, sometimes worse," says Singer. People working in mine-contaminated fields -- agricultural laborers, shepherds -- are frequent victims, he says.

See what life is like for those affected by conflict in Lebanon »
Paradoxically, he says the Israeli army's withdrawal from southern Lebanon, in May 2000, led to a spike in mine accidents. "People were so happy that they were running and jumping around, and unfortunately they were hit by cluster munitions and landmines," recalls Singer. That single day brought him 25 cases of amputations.
If it is particularly unacceptable for children to be victims of cluster bombs -- as is so often the case -- their recovery is mercifully easier, according to Singer, who says Muhammad "can start his life all over again, and later on, even go to work like other grown-ups. This is unlike a person who is injured at an old age, who will find it difficult to adapt to a new physical condition."
For now though, Muhammad is staying at home. The school run by UNRWA -- the U.N. agency in charge of Palestinian refugees -- in his refugee camp has no facilities for disabled children. His parents are very poor -- his father cannot work and the family survives on the cleaning jobs of Muhammad's mother -- and cannot afford a private facility.
But Muhammad keeps hoping. "The most important thing for me is to be able to have an education and to work," he asserts, with an eager look on his face.

For more about this topic go to the ICRC Website.
Have you been affected by conflict? Send your photos and stories to iReport.
E-mail to a friend

All About Lebanon