BAGHDAD, Iraq (CNN) -- A court found an Iraqi man guilty of kidnapping and killing a humanitarian worker in 2004 and sentenced him to life in prison Tuesday, Iraqi court officials said.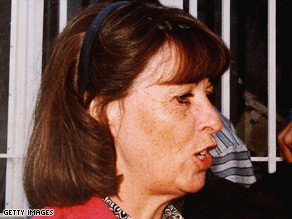 Margaret Hassan spent nearly half her life helping Iraqis before she was kidnapped in October 2004.
Ali Lutfi Jassar al-Rawi was found guilty at Baghdad Central Criminal Court for the killing of Margaret Hassan, who headed operations in Iraq for Care International. The suspect, arrested in May 2008, was also found guilty of attempting to blackmail Hassan's family.
Al-Rawi is the second person found guilty in connection with the case. The other was sentenced to life in prison in 2006, but the sentence was reduced on appeal, court officials said.
Hassan, who was in her 60s and held British and Iraqi citizenship, appeared in hostage videos where she pleaded for her life and urged British troops to withdraw from Iraq.
The British Foreign Office issued a statement saying John Tucknott, the charge d'affaires in Baghdad, welcomed the news that the man had been "brought to justice by the Iraqi authorities for the role he played in the kidnap and murder of Margaret Hassan. Our thoughts are with Margaret Hassan's family for the suffering they continue to endure.
"We hope that this may be a step further to finding the other people responsible for this dreadful crime, and to finding Margaret's body," the office said.
"We will continue to work with the Iraqi authorities as they continue their investigation, and press them to follow up all possible aspects. We urge anyone with information on this crime to please come forward."
A Care spokeswoman had no comment on the development.
Videotapes had surfaced purportedly showing Hassan's killing. Arabic language network Al-Jazeera reported that it had "obtained a video showing a masked militant shooting a blindfolded woman, who was referred to as Margaret Hassan, in the head using a handgun. Al-Jazeera decided to wait on reporting the news until it confirmed the authenticity of the tape."
Al-Jazeera did not show the video.
Then-British Foreign Secretary Jack Straw said, "Our experts have been examining a video which appeared to show that Margaret Hassan has been murdered, to establish whether it is genuine.
"As a result of our analysis, we have today had to inform Margaret Hassan's family that, sadly, we now believe that she has probably been murdered, although we cannot conclude this with complete certainty."
Hassan was born in Ireland and had lived in Iraq for 30 years.
A highly respected humanitarian official in the Middle East, she was kidnapped on the street shortly after she arrived at her office. Her abductors never explained why she was targeted.
Shortly after her 2004 abduction, patients at a Baghdad hospital took to the streets to protest the kidnapping. They credited her with helping rebuild the medical facility last year.
E-mail to a friend

CNN's Mohammed Tawfeeq contributed to this report.
All About Iraq • Margaret Hassan