BAGHDAD, Iraq (CNN) -- The United Nations Children's Fund is reopening its office in Baghdad six years after leaving because of the conflict in Iraq, the agency announced Tuesday.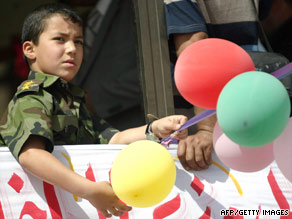 An Iraqi boy watches a parade to mark the withdrawal of U.S. troops from Iraqi cities and towns on Tuesday.
It has been running its Iraq operations from neighboring Jordan, but will now put five senior staff in Baghdad.
"This marks the beginning of the UNICEF Iraq country office's full transition back to Iraq over the next year," the agency said.
The announcement coincides with the pullback of U.S. forces in the country to bases outside cities and towns, more than six years after the U.S.-led invasion.
The agency also announced the launch of a $10 million water and sanitation project.
"This investment will provide over 100,000 people, including children from 30 schools ... with improved access to water and sanitation facilities," UNICEF's Iraq representative Sikander Khan said in a statement.
Don't Miss
About 6 million Iraqis -- one out of five -- do not have access to safe drinking water, according to the agency.
Nearly half of those without access to clean water get their water from streams, increasing risk of getting deadly diseases, the agency said.
The project funded by the European Community will affect cities including Erbil, Sulaymaniyah, Muthanna, Thi-Qar, Missan and Basra. The agency will work with ministries in the Kurdish north of the country to implement the project, it said.
The project includes training staff, surveying the water and sanitation sector, and developing plans in two areas of the country that can be repeated elsewhere.
E-mail to a friend