BAGHDAD, Iraq (CNN) -- Polls opened Saturday in presidential and parliamentary elections in Iraq's autonomous region of Kurdistan, an official with the regional government told CNN.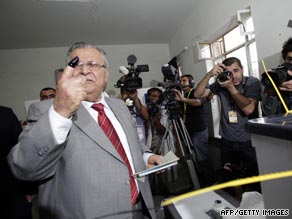 Iraqi President Jalal Talabani, a Kurd, shows off his ink-stained finger as he votes in Sulaimaniyah.
About 2.5 million eligible voters in the Kurdish region's three northern provinces of Irbil, Dahuk, and Sulaimaniya will elect their 111-seat parliament and next president.
Nechirvan Barzani, the prime minister of the Kurdish regional government, voted along with his wife when polls opened at 8 a.m. (1 a.m. ET), the official said.
Since 2005, the Kurdistan Regional Government (KRG) has maintained a secure region that has been largely free of the violence seen in other parts of Iraq. But a lack of government transparency, corruption, difficulty in delivering basic services, and political rivalries continue to plague the KRG.
A transparent and fair election, accepted as legitimate by voters, would be another step toward democracy and reform in Iraq and within the region.
"We hope that these elections will be a step forward that will help solve the disagreements with Baghdad," said KRG President Masoud Barazani, who held a news conference after he voted in Irbil.
Don't Miss
Iraqi Prime Minister Nuri al-Maliki congratulated the Kurdish people on their elections in a speech delivered in Washington and broadcast on Iraq's state TV.
"It is necessary that the Kurdish people will go and vote, and give this day great attention," he said. "It is also necessary that the the elections should be honest and transparent, and the good choice should be the result of this process."
Al-Maliki said the elections will help a "great deal" in solving the region's problems and "dealing with all the inherited issues that we got from the former regime."
The Kurdistan Parliament-Iraq (KP-I) is a democratically elected legislature that governs the three KRG provinces. The region is run semi-autonomously from the Republic of Iraq's central government, affording the KP-I the right to amend any national legislation that falls outside the federal authorities' exclusive powers.
Once sworn in, members of the KP-I will elect the region's prime minister and confirm the Kurdistan cabinet.
The election is based on a proportional representation system that requires voters to select a party's list of candidates rather than one specific individual.
Of the 111 parliamentary seats, 11 are allotted to minorities that include a mandatory five Turkmen, five Christians and one Armenian.
E-mail to a friend

CNN's Mohammed Tawfeeq and Yousif Bassil contributed to this report.
All About Iraq