JERUSALEM (CNN) -- Israel on Sunday withheld the press credentials of a Swedish newspaper in retaliation for a controversial piece that suggested the Israeli army kidnapped and killed young Palestinians to harvest their organs.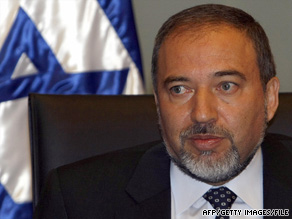 Israeli Foreign Minister Avigdor Lieberman compared the Swedish government's hands-off position to the country's neutrality during World War II.
The journalists need the credentials to report from Gaza.
"We have no duty to supply them with press cards immediately; (we) have 90 days to decide about their status," said Danny Siman, the head of the government press office.
The article, "Our sons are being stripped of their organs," appeared Tuesday in Aftonbladet and was an opinion piece written by freelance journalist Donald Bostrom.
Bostrom told CNN he had no proof that Israeli soldiers were stealing organs, and that the purpose of his piece was to call for an investigation into numerous claims in the 1990s that such activity was going on in the West Bank and Gaza.
Even though the Swedish embassy distanced itself from the report, the country's foreign ministry refused to condemn it -- saying Sweden has a "free press."
The refusal has rankled Israel, which said it will submit an official complaint.
"This is an anti-Semitic blood libel against the Jewish people and the Jewish state. The Swedish government cannot remain apathetic," said Israel's Finance Minister Yuval Steinitz.
"We know the origins of these claims. In medieval times, there were claims that the Jews use the blood of Christians to bake their Matzas for Passover. The modern version now is that the IDF (Israel Defense Forces) soldiers use organs of Palestinians to make money."
Don't Miss
He continued: "It makes no difference whether this comes from a neo-Nazi organization or from an honorable newspaper. The Swedish government must renounce itself from this anti-Semitic publication."
The article centers around the case of Bilal Ahmed Ghanem, a 19-year-old Palestinian man who was shot and killed in 1992, allegedly by Israeli forces, in the West Bank village of Imatin.
Bostrom, who witnessed the man's killing, said Ghanem was taken away by Israeli forces while he was still mortally wounded. His body was returned five days later with a cut in his midsection that had been stitched up.
Ghanem's family said they believed that his organs had been removed.
After that incident, at least 20 Palestinian families told Bostrom that they suspected the Israeli military had taken the organs of their sons after they had been killed by Israeli forces and their bodies taken away -- presumably for routine autopsies.
Bostrom said he balanced those claims in his article by including a reaction from an Israeli military spokesman who told him that the Israel Defense Forces routinely carries out autopsies on Palestinians killed by their troops.
But, as he stated in his article, Bostrom said he has doubts about the necessity of the procedures if it is clear how the person died.
Last week Israeli Foreign Minister Avigdor Lieberman compared the Swedish Foreign Ministry's hands-off position to the country's neutrality during World War II.
"It's a shame that the Swedish Foreign Ministry fails to intervene in a case of blood libels against Jews," Lieberman told Sweden's ambassador to Israel on Thursday evening. "This is reminiscent of Sweden's stand during World War II, when [it] had failed to intervene as well."
E-mail to a friend

All About Sweden • Israel • West Bank and Gaza Strip