(CNN) -- Cairo native and jewelry designer to the stars, Azza Fahmy, reveals her favorite sights, restaurants and activities in the Egyptian capital.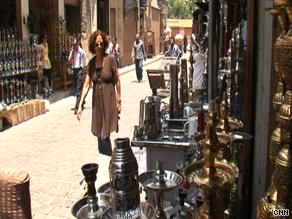 Designer Azza Fahmy scours Cairo's souks, mosques and streets to find inspiration for her jewels.
MUST SEE PLACES:
Sultan Hassan Mosque -- Considered one of the masterpieces of Mamluk architecture. The building was commissioned by Sultan Hassan bin Al-Nasir Muhammad bin Qalawun in 1356 AD as a mosque and religious school for all four branches of Sunni Islam. The mosque is featured on the Egyptian one-hundred pound note.
Address: Al-Qal'a street, Islamic Cairo
Islamic Museum -- Established in 1881, the museum displays 10,200 pieces from Egypt's different Islamic eras, including the Fatimid, Ottoman and Persian periods.
Address: Bab El Khalq Square in the Egyptian library. Take Port Saed Square to reach the intersection with Muhammad Ali St. in Ahmad Maher Square.
Opening Hours: Saturday through Thursday: 9 a.m. to 4 p.m..; Fridays: 9:30 a.m. to 11:30 a.m. and 1:30 p.m. to 4 p.m.
Coptic Museum -- Recently reopened after renovations, the museum showcases the largest collection of Egyptian Christian artifacts in the world. It was founded by Marcus Simaika Pasha in 1910 to house Coptic antiquities. The museum traces the history of Christianity in Egypt from its beginnings to the present day. It also includes a beautiful garden -- a wonderful place to relax.
Address: Religious Compound, Precinct of the old Roman Babylon Fort, Old Cairo. Across the street from the Mar Girgis Metro station.
Phone Number: +20.2.362.8766 and +20.2.363.9742
Don't Miss
Beit El Seheimy -- A historic Ottoman restored house. It is one of the best examples of a rich private house dating back to 17th century Egypt.
Address: El Moez Street, Fatimid Area close to Khan al Khalili.
Beit El Keretleya -- Another authentic Ottoman House in Old Cairo.
ACTIVITIES
Felucca ride -- Feluccas are the traditional Egyptian sailboats of the Nile. Perfect for catching the breeze on a hot summer night, for brisker sails the rest of the year, and catching the sunset anytime. Feluccas are usually furnished with cushions around the circumference and a table fixed in the middle, where one can enjoy picnic-style lunches or dinners while enjoying a different view of the metropolis.
Address: They are usually parked on the side of the Nile in unique spots, including along the Corniche across the street from the Four Seasons on the Nile in the Garden City area of Cairo.
Horseback riding aside the pyramids -- Pick up horses at an area called "Nazlet el seman" close to the pyramids.
Camel ride -- At the pyramids
Hantour ride -- A horse carriage that goes around certain streets of Cairo, usually by the Corniche.
Walk around -- Downtown streets, particularly Wist el Balad.
PLACES TO EAT:
Abu El Sid -- Famous, though pricey, restaurant featuring Egyptian cuisine. Also a night spot. The mezzes are delicious, as are the mulukheya served with chicken or pigeon.
Address: 157, 26th of July street, Zamalek.
Phone: +20.2.749.7326
Felfela -- Authentic Egyptian fast food chain. The nicest outlets are in downtown Cairo or Haram/Pyramids Street (all you need to tell a cab is felfela Wist el balad or Haram street). Best for breakfast. Felfela is a good place to taste such Egyptian staples as shorbat ads (lentil soup), tasty with a squeeze of lemon; taamiya (the local version of falafel); and ful (stewed fava beans served in a variety of ways).
Address: 15 Shara Hoda Sharaawi, Downtown Cairo. Phone: +20.2.392.2833
Inside the Middle East
Bringing you the latest news on politics, pop culture and modern life in the Middle East.


Abu Shakra -- Moderately priced Egyptian cuisine. Known for its grilled meats and the Egyptian delicacy, stuffed pigeon. Branches in Maadi, Heliopolis, Downtown, & Mohandeseen.
Address: Heliopolis 82 Marghani Street Cairo.
Phone number: +20.2.418.9888
El Omda -- Try the local specialty -- Kushari, a base of rice, lentils, chick peas, macaroni, with a topping of Egyptian garlic, vinegar and spicy tomato sauce. Inexpensive. They also serve Egyptian dishes such as kofta, grilled chicken and a selection of salads.
Address: 6 El-Gazayer St., Mohandesseen area behind the Atlas Hotel off Gameat El Dowal Street in Cairo, Egypt. Phone: +20.2.346.2701.
Opening Hours: noon until 2:00 am.
Andrea -- Located near the Pyramids, this large restaurant features a spacious air-conditioned dining room with a fireplace for winter and a much-lauded garden terrace for summer. Soft lighting, pleasant views and the sizzle of the outdoor grill create a relaxed ambience. Roasted chicken is the house speciality. Kebabs, kofte and quails are also prepared on patio grills. Portions are generous, local beer and wine are served. No desserts.
Address: 59 Teraat el-Maryotteya St. Cairo.
Phone: +20.2.383.1133
Opening Hours: Noon-midnight daily.
E-mail to a friend