Home of the ancient pyramids and the Arab League, Cairo blends three thousand years of Egyptian history. Today, this sprawling capital, Africa's largest city, teems with life and sound.
Population: Approximately 20 million.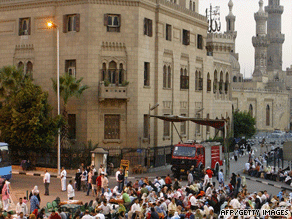 Egyptians gather outside a mosque to break the holy Ramadan fast at sunset and enjoy a large meal.
Local Time: GMT +2 (winter), GMT +3 (summer)
Weekend:Friday and Saturday
Electric Current:220 Volts
Getting There:
Train -- Full of character, the colonial Ramses train station (Mahatta Ramses; 575 3555; Midan Ramses, Downtown) is Cairo's main station. It has a left-luggage office and a tourist information office (9 a.m.-7p.m.).
Getting Around:
Airport Shuttle Bus -- The best way to get in and out of the city, these small air-conditioned buses hold only seven passengers.You can book a bus prior to arriving in Cairo through their website cairoshuttlebus.com or at their counter at the airport upon arrival.
Taxis -- Still the best way to get around Cairo although most cars are older and lack air-conditioning. Flag a black and white taxi on the street. All cabs have antiquated meters, but they're no indication of the fare. Agree on the price before getting in. To pre-book a new, air-conditioned cab, try Yellow Cab at +20104343438
Bus & minibus -- Cairo's main local bus and minibus stations, serving all parts of the city, are at Midan Abdel Moniem Riad. This is an inexpensive means of transportation, but not for the faint-hearted or claustrophobic. If you have an adventurous spirit, try it out. Be ready to run and jump on while the vehicle is moving; buses don't always come to a full stop at stations.
River bus -- On the Corniche in front of the Radio & TV Building is the Maspiro river bus terminal. From here boats depart every 15 minutes between 7a.m. and 10p.m. for Doqqi, Manial, Giza and Misr al-Qadima (Old Cairo). The trip takes 50 minutes.
Metro -- If you're on a tight budget, the Metro system is an inexpensive and relatively efficient way to get around, but gets extremely crowded during rush hour. The first carriage is reserved for women only.
Practical Information:
Inside the Middle East
Bringing you the latest news and in-depth stories on politics, pop culture and everday life from across the Middle East.


Money -- There are banks, foreign exchange bureaus and ATMs all over town. Banque Misr exchange office at the Nile Hilton on the Corniche is open 24 hours, as are the airport money-changing booths. All the big hotels have ATMs.
Exchange Rate -- US$1 = 5.5 Egyptian Pounds
Tipping -- In Arabic, it is called "baksheesh". Although not obligatory, baggage handlers, taxi drivers and waiters can be tipped anywhere between 5 and 10 Egyptian Pounds ($1 to $2). When in a restaurant, a 10% tip is sufficient.
Phones -- International mobile phones can roam into the local networks but the cost per minute remains high. Prepaid local mobile SIM Cards are a cheaper alternative. They are available with Mobinil, Vodafone and Etisalat for $10 to $60 depending on the validity and number of minutes purchased.
Cairo International Airport (Terminal 1: +20 (02) 265 5000, Terminal 2 +20 (02) 265 2222) is 20km northeast of Cairo.
Factor at least 45 minutes to an hour by car to get to the airport, possibly longer if you're coming in from the Western part of Cairo (Giza).
Emergency Numbers:
Ambulance (123)
Fire department (180)
Police (122)
Tourist police (126)
Medical services:
Cairo Medical Hospital Heliopolis, Cairo( Tel: 450-4901
El Salam Mohandesin Hospital Mohandesin Tel: 302-9970 or 302-9091-5
El Salam International Hospital Maadi, Cairo Tel: 524-0250
E-mail to a friend