By Olivia Sterns
For CNN





LONDON, England (CNN) -- The Palestinian Youth Orchestra (PYO) is just one example of the Middle East's many arts and music initiatives that are helping spread a message of peace and harmony.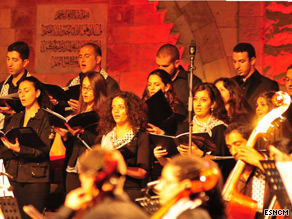 Founded in 2004 by the Edward Said National Conservatory of Music in Palestine, the group aims to bring together talented young musicians from the Palestinian Territories and throughout the Palestinian diaspora.
Thanks to one iReporter who attended their recent concert in Amman, Jordan, the PYO was featured on CNN's newly re-launched program "Inside the Middle East." IReporter Ali Dahmash simply filmed a short video about the concert and sent it in to CNN's website.
"I left this concert hopeful, happy and proud that those kids can eliminate the bad image of Arabs and Muslims," Dahmash said in his iReport.
The concert was held to mark the first anniversary of the death of Palestinian poet Mahmoud Darwish. In the first section the young players performed Beethoven's "Third Symphony." In the second section the choir sang excerpts of Darwish's poems such as "Asheqa," "Gaza" and "Ya Quds wain Arroh."
Inside the Middle East
Bringing you the latest news on politics, pop culture and modern life across the Middle East.


The musicians at the orchestra came not only from the West Bank and Gaza, but from Jordan, Syria, the U.S. and Europe.
According to a statement on their website the PYO's goal is "to address the whole world through the language of music, contributing toward enhancing the cultural and artistic identity of Palestine."
By simply taking the initiative to upload this video to CNN.com, Dahmash was able to share his thoughts on a cultural event in the region.
If you know of an interesting story or organization that you think should be featured on CNN, then send in a short iReport and it might just end up on TV.
Click here to find out how to become an iReporter.
E-mail to a friend