(CNN) -- Yemen's military opened an investigation Friday into reports that an airstrike intended for Shiite rebels mistakenly struck and killed displaced Yemeni civilians, a Yemen Embassy spokesman in the United States said.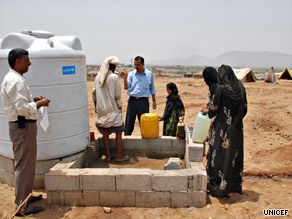 Women and children collect water earlier this month at camp in northern Yemen for those displaced by fighting.
"We have been exercising strict precautions to minimize collateral civilian casualties and damage," said the spokesman, Mohammed Albasha.
Thursday's strike was meant to target Shiite rebels in Amran province, according to Yemeni government officials who spoke on condition of anonymity. Houthi Shiite rebels were fighting near the site, officials said.
Government officials put the death toll at 86, while UNICEF said "reliable" government and media sources put the death toll at 87 -- most of them women and children.
CNN could not independently verify those numbers, and the Yemeni government did not officially comment on the airstrike.
The U.N. high commissioner for human rights, Navi Pillay, on Friday called for an immediate investigation by Yemen's government.
"This is a deeply disturbing development in a conflict that was already troubling in terms of its impact on civilians," Pillay said. "The government should launch a full-fledged investigation into what went wrong, and take immediate measures to try to ensure we do not see a further avoidable tragedy of this nature."
Albasha said there were no registered camps for internally displaced people in the region where the strike occurred. He said there are claims from humanitarian organizations that Houthi insurgents may have used the civilians as human shields.
The rebels have set up roadblocks in the conflict zone, trapping civilians, Albasha added.
According to reporters from the Yemen Post who were on the ground nearby, regional tribes that support the government in the fight against the Shiite rebels withdrew from combat to protest the airstrike.
UNICEF on Thursday decried the high number of civilian casualties in the airstrike, without specifying how many civilians had died.
"UNICEF is deeply concerned about reports that civilians, including children, died in an air raid on a camp for displaced persons in northern Yemen," the statement said.
"This latest incident is a tragic development in an already alarming situation. More than a month after the latest escalation of fighting, children affected by the conflict still have no access to safe water, adequate sanitation, health care and protection."
The United Nations recently said fighting between Yemeni government forces and Houthi Shiite rebels in northern Yemen has displaced 150,000 people since the latest round of fighting began on August 12. This month, the United Nations appealed for $23 million in emergency aid to help Yemenis uprooted by war -- but so far, it has received not a single cent.
Battles between Yemeni forces and rebels in the north have raged intermittently for five years. A government offensive launched last month has escalated bloodshed.
The conflict is considered to be both separatist -- over who will assert authority in the area -- and sectarian -- whether Shiite Islam will dominate in majority Sunni Yemen. The rebels are supporters of slain Shiite cleric Hussein al-Houthi.
E-mail to a friend

CNN's Mohammed Jamjoom and journalist Hakim Al-Masmari contributed to this report.
All About Yemen • United Nations • Islam