By Arsalan Iftikhar
Special to CNN





Editor's note: Arsalan Iftikhar is an international human rights lawyer, founder of TheMuslimGuy.com and contributing editor for Islamica magazine in Washington.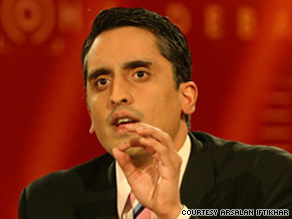 Arsalan Iftikhar says the right reaction to Gadhafi, Ahmadinejad was to walk out during their U.N. speeches.
(CNN) -- The United Nations this week hosted two of the world's most notorious dictatorial clowns.
The world body gave a prominent forum to Col. Moammar Gadhafi of Libya and President Mahmoud Ahmadinejad of Iran, who preside over repressive regimes dominating the nearly 73 million helpless people of Libya and Iran.
In his rambling and nonsensical 96-minute tirade at the podium of the General Assembly, Gadhafi deemed it wise to use this opportunity to call the H1N1 flu virus a "military tool," refer to the U.N. Security Council as the "terrorist council" and spew other absurdly ridiculous conspiracy theories.
Not to be outdone, Ahmadinejad stuck to his usual ridiculous script of railing against the United States and Israel for all of the world's woes during his U.N. speech that shed no new light on the Iranian state's nuclear strategy.
Several delegations, including that of the United States, walked out of the hall in protest during Ahmadinejad's speech. The speech drew little reaction from U.N. delegates.
Clearly, no serious person in the world has listened to Gadhafi in years and the Holocaust-denying Ahmadinejad is nothing more than the "Members Only" jacket-wearing mouthpiece of the supreme leader of Iran, Ayatollah Ali Khamenei. The two have become fodder for the comic monologues of Jay Leno, Conan O'Brien and Jon Stewart.
Don't Miss
In contrast, there's no comedy involved in recent events in Iran. The world recently watched the bloody aftermath of the hotly contested June presidential election between Ahmadinejad and reformist candidate Mir Hossein Moussavi. Our global community saw millions of average Iranians taking to the streets of Tehran and other Iranian cities to demand that their votes be accurately counted.
This crackdown allowed Ahmadinejad's military thugs, known as the Iranian Revolutionary Guard Corps, to seek to suppress peaceful dissent and lawful protests over the last few months. Using batons and water cannons against their own people, Ahmadinejad's cronies are trying to quash the voices of millions of peaceful Iranians, many of whom have used text messages, Facebook and Twitter in an attempt to share their stories with the rest of the world.
In the first few days alone after the Iranian protests began, media reports put the death toll as high as 150, mainly due to Revolutionary Guard violence against peaceful Iranian protesters, including the infamous death of 27-year-old Neda Agha-Soltan on the streets of Tehran.
The comparable shame for Libya is clear: Lockerbie, Scotland. I vividly remember the tragic day of December 21, 1988, when Pan Am World Airways Flight 103 exploded over Lockerbie, killing more than 270 innocent people.
Sadly, in August, the Scottish government decided to release a former Libyan government intelligence official convicted in the Lockerbie bombing, Abdelbeset Ali Mohmed al Megrahi, on "compassionate grounds" because he has terminal prostate cancer and is not expected to survive more than a few months.
According to The Times newspaper in London, the British government decided it was "in the overwhelming interests of the United Kingdom" to make al Megrahi, the convicted Lockerbie bomber, eligible for return to Libya after discussions between Libya and British Petroleum over a multimillion-dollar oil exploration deal "had hit difficulties."
Conveniently, these "difficulties" between Libya and BP "were resolved soon afterwards." This was an affront to the families of the victims of Pan Am Flight 103. Simply put: The Lockerbie bomber should never have been released.
In their U.N. appearances, Gadhafi and Ahmadinejad showed their true political colors as two feckless dictators whose ideas are morally bankrupt, politically vacuous and legally questionable. These leaders have oppressed their own people, violated basic international human rights law and marginalized their citizens from the rest of the global community.
The lesson -- as demonstrated by many official delegates of the United Nations in New York -- whenever one of these two dictatorial clowns begins one of his nonsensical and conspiratorial rants, we should have all learned by now to stand up together and walk out of the room.
The opinions expressed in this commentary are solely those of Arsalan Ifthikhar
E-mail to a friend

All About Moammar Gadhafi • Mahmoud Ahmadinejad • Lockerbie