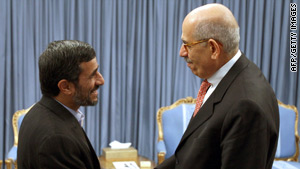 Iranian President Mahmoud Ahmadinejad, left, greets IAEA chief Mohamed ElBaradei in Tehran in October.
STORY HIGHLIGHTS
Six world powers and EU meet in Brussels to discuss Iran nuclear deal
Tehran has apparently rejected deal to send uranium abroad for enriching
U.S., EU nations concerned Iran intends to develop nuclear weapons
Brussels, Belgium (CNN) -- Representatives of six world powers and the European Union met in Brussels on Friday to discuss Iran's apparent rejection of a key part of a nuclear deal.
A statement will be issued "soon," according to the office of Javier Solana, the EU's foreign policy chief.
The United States, Russia, China, Germany, France and the United Kingdom, along with the EU, are trying to map a way forward on Tehran's controversial nuclear program. They seek to reduce international fears that Iran wants to develop nuclear weapons.
On Wednesday, Iranian Foreign Minister Manouchehr Mottaki said Iran refused a request that his country send its partially enriched uranium abroad to be turned into material for medical research.
However, he said Tehran might allow the nuclear material to be reprocessed inside Iran, the semiofficial ISNA news agency reported.
The U.N.'s nuclear watchdog -- the International Atomic Energy Agency -- said Wednesday it could not confirm or deny that Iran had rejected any part of the proposal.
The deal hammered out last month with the help of the IAEA aimed to reduce the amount of raw material Iran has to build a nuclear bomb.
Agency Director-General Mohamed ElBaradei denied Friday during a news conference in Berlin that nuclear negotiations with Iran have fallen through, an agency spokesman told CNN.
The spokesman said ElBaradei considers the language from Mottaki ambiguous, and the media should not consider the foreign minister's response as the end of the deal.
"We have not received any written response from Iran," the spokesman said. He said ElBaradei hopes to see progress even though the process has taken awhile.
"He is not ready to say it's over," the spokesman said.
U.S. President Barack Obama on Thursday warned Iran there would be "consequences" if it did not accept the plan.
Iran insists it intends to produce nuclear energy only for peaceful purposes, including civilian electricity and medical research.
IAEA inspectors first visited the newly revealed Fordow Fuel Enrichment Plant last month, according to an agency report published Monday.
During a meeting in Tehran, Iranian officials told the inspectors that construction of the site had begun during late 2007, the report said, and it would not be operational until 2011.
However, the agency's inspectors told Iran "it had acquired commercially available satellite imagery of the site indicating that there had been construction at the site between 2002 and 2004, and that construction activities were resumed in 2006 and had continued to date," the report said.
IAEA member states also allege that design work on the Fordow facility began in 2006, the report said.
Iranian officials told inspectors the nation has no other undisclosed nuclear facilities either under construction or in operation, the report said, and promised that any future facilities would be disclosed.
Iran remains bound by the terms of a 2003 agreement under which it must provide information to the IAEA regarding nuclear facilities as soon as the decision to build is made or construction is authorized.