Toyota to pay U.S. $32.4 million over recalls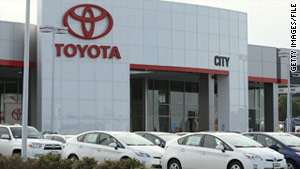 Toyota has agreed to pay more than $32 million in penalties for its handling of recent recalls.
STORY HIGHLIGHTS
Toyota will pay U.S. authorities $32.425 million in penalties for its handling of recent recalls
The penalties, for two investigations, are the maximum allowed, the Transportation Dept. says
Toyota has seen its U.S. sales drop considerably in recent months
(CNN) -- Toyota has agreed to pay more than $32 million in penalties after two federal investigations that faulted the Japanese automaker for its handling of recent auto recalls, the U.S. Transportation Department announced Monday night.
The fines -- $16.375 million in one case, and $16.05 million in another -- are the steepest allowed by law, the department said in a statement. They come amid on ongoing investigation that Toyota did not comply with federal requirements when it came to reporting safety defects to the National Highway Traffic Safety Administration.
The penalties are on top of the $16.375 million fine that Toyota paid last April, for failing to notify the safety officials within five days of learning of the "sticky pedal" effect, which caused some of its cars to accelerate with no way to slow down.
Transportation Secretary Ray LaHood applauded the settlement, saying he expects "Toyota to work cooperatively in the future to ensure consumers' safety."
Steve St. Angelo, Toyota's chief quality officer for North America, also issued a statement saying his company was "pleased to have resolved these legacy issues."

Toyota: Where's the testing?

A letter to Toyota from its workers
"These agreements are an opportunity to turn the page to an even more constructive relationship with (federal safety authorities) and focus even more on listening to our customers and meeting their high expectations for safe and reliable vehicles," he said.
The announcement is the latest in a string of recent setbacks for Toyota.
Its sales for November were down 3.2% from one year ago, slightly more than analysts predicted and down 11.1% from October. Those results have left the automaker mired in third place in terms of U.S. sales.
Also in November, Toyota announced a "limited service campaign" to fix cooling pumps on 378,000 Toyota Prius hybrid cars in North America. And a federal judge in California tentatively ruled that dozens of Toyota vehicle owners who filed a class-action lawsuit against the automaker over alleged mechanical defects can proceed with their case.
The lawsuit is the first major U.S.civil action against Toyota since the automaker recalled millions of vehicles stemming from "sudden unexpected acceleration" and brake defects.
In the lawsuit, Toyota car owners say their vehicles lost significant value as a result of the recall as well as federal investigations stemming from thousands of consumer complaints, which led a $16.3 million civil penalty issued by the National Highway Transportation Safety Administration.
Even before the Prius recall, Toyota had announced recalls of more than 8 million vehicles since the second half of 2009. The latest major recall was in August, affecting about 1.33 million Corolla and Matrix vehicles built from 2005 to 2008 and sold in the U.S. and Canada.
FOLLOW THIS TOPIC