STORY HIGHLIGHTS
Morgan Nick, 6, vanished while catching fireflies on June 9, 1995
Police believe she was abducted by a stranger
An inmate confessed, but police discounted his confession
Know something? Call police at 1-479-632-3930 or 1-800-THE-LOST. A reward is offered
(CNN) -- In about the same time that it takes to light a match, tie a shoelace or hail a taxi, 6-year-old Morgan Nick vanished from her mother's sight.
Morgan was catching fireflies with other children in a baseball field parking lot in Alma, Arkansas, as a Little League game was winding down on the evening of June 9, 1995.
At first, Morgan, who was a bit shy, did not want to join the others as they tried to catch and release the glowing insects, said her mother, Colleen Nick.
But after a while, the kids persuaded Morgan to accompany them, and her mother gave permission, reluctantly, she now recalls. Morgan "threw her arms around my neck and gave me a big hug,'' Nick said.
"She kissed me on the cheek and then climbed out of the bleachers and ran to where the cars were parked, which was a little less than 50 yards from where we were. So we could see them running back and forth and playing.''
They chased fireflies for about 15 minutes. When her playmates came back to the field, Morgan wasn't with them. She was nowhere in sight.
Her mother's panic set in quickly. Someone with a cell phone called 911 and police arrived to help search for Morgan. "We are still searching,'' Nick said in a recent interview slightly more than 15 years after her daughter disappeared on a warm summer night.
Police now believe Morgan was abducted by a stranger. The case has left an indelible mark on Arkansas.
The Morgan Nick Amber Alert System is one testament to her mother's activism and the imprint Morgan's disappearance has made.
"If I quit fighting for her, eventually everyone else will quit fighting for her, as well,'' Nick said.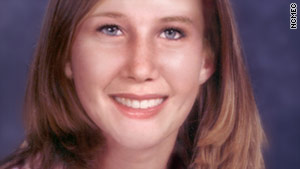 This age progression image shows what Morgan Nick might look like today.
After Morgan disappeared, Nick, who lived 30 miles east of Alma, took up residence for six weeks at a volunteer fire station next to the police department in Alma, a rural community of about 5,000.
"I was absolutely not going home without my daughter,'' she said.
These days, Nick speaks with a smile in her voice as she recalls Morgan's ''belly laugh that came from, you know, way down low.''
She loved cats, apples and thought bubble gum was a food group, Nick says. Morgan didn't like to run and play outside because it made her sweat.
In the first grade, Morgan brought home papers to sign up for track. Nick filled them out and sent them back to school. But after their first practice, Morgan quit. She was upset the running made her sweat.
Instead, she joined the Girl Scouts, where she could stay inside and "glue stuff,'' her mother said.
At six, Morgan's dream was to grow up and be a circus performer and a doctor, Nick said.
Morgan's younger brother is now in the Navy and her sister is a high school senior.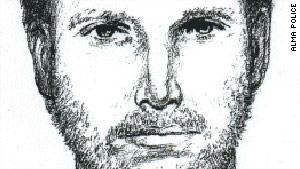 A stranger who looked like the man in this sketch was seen talking to Morgan at the game.
"Some days it's so hard to deal that the best I can do is sit on the couch and pull the covers up over my head," Nick said. "But at the end of the day, I know I have to get up and keep fighting for Morgan.''
One difficulty in solving the case is a lack of physical evidence and the fact that no one witnessed Morgan's abduction, said Chief Russell White of the Alma Police.
"What makes it a hard case to crack is that it's a real simple crime. It's not a conspiracy and does not involve a lot of people,'' White said.
"This is probably a person by nature who is a loner, had very few friends. He committed a crime and has not told anybody.''
Police have a room filled with documents recording thousands of leads that multiply more quickly than they can be checked and eliminated, White said.
Hundreds of potential persons of interest remain in the case files because their alibis or whereabouts at the time have not been fully established, he added.
White said investigators have pinned their hopes on apprehending an unidentified man who was at the game and who, according to witness accounts, made some sort of contact with Morgan.
A composite sketch shows a man with a scruffy beard, salt and pepper hair, standing about 6 feet and weighing 180 pounds. He had a red pickup truck, White said.
Details of his brief interaction with Morgan have not been disclosed because authorities need to screen out false confessions, White said.
An inmate in Indiana recently claimed responsibility, White said. But the inmate could not recall the specifics and his confession was dismissed.
When she disappeared, Morgan was approximately 4 feet tall and weighed about 55 pounds. She had blonde hair, blue eyes and five visible silver caps on her molars. She was wearing a green Girl Scout T-shirt, blue denim shorts and white tennis shoes.
A $60,000 reward is offered for information leading to a conviction or arrest in the case.
If you have information on Morgan Nick, call the Alma Police Department at 1-479-632-3930 or The National Center for Missing & Exploited Children at 1-800-THE-LOST.
FOLLOW THIS TOPIC