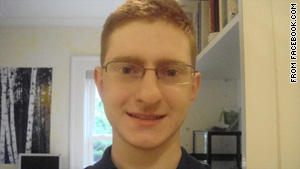 The body of 18-year-old Tyler Clementi was recovered from the Hudson River on Thursday.
STORY HIGHLIGHTS
Student killed himself after the broadcast of a sexual encounter with a man
Rutgers is dealing with scrutiny after news of the incident surfaced
Two other students have been charged with invasion of privacy
New York (CNN) -- Rutgers University's president pledged Friday to meet with members of the school's gay community amid furor over a student's suicide after video of his sexual encounter with another man was posted online.
In a letter to the Rutgers community, President Richard McCormick praised what he called the school's "strong history of social activism on behalf of diversity," but acknowledged that the university "is an imperfect institution in an imperfect society."
The letter comes a day after the body of 18-year-old Tyler Clementi was recovered from the Hudson River -- more than a week after he jumped from the George Washington Bridge, which spans the river between New York and New Jersey.
Clementi remembered as talented musician
Two other Rutgers students -- 18-year-old Dharun Ravi and 18-year-old Molly Wei -- have been charged with invasion of privacy after they allegedly placed a camera in Clementi's dorm room without his knowledge and then broadcast his sexual encounter, according to the Middlesex County, New Jersey, prosecutor's office.
Though university officials declined to respond to CNN's questions about when Rutgers first learned of the webcam incident, citing privacy laws, a school spokesman said Friday that officials "did the best they can."
"I have spoken to virtually every principle involved in this matter, and they have attempted to handle this matter to the best of their ability," Rutgers spokesman Greg Travor told CNN.
Read more about legal issues surrounding the case
McCormick's Friday letter said that "This tragedy and the events surrounding it have raised critical questions about the climate of our campuses. Students, parents, and alumni have expressed deep concern that our university, which prides itself on its rich diversity, is not fully welcoming and accepting of all students."
To that end, McCormick announced a meeting with lesbian, gay, bisexual and transgendered students in which he will discuss with them "what they identify as the areas in which Rutgers can better support the needs of this community."

Video: The internet and cyber bullying

Video: Events surrounding student suicide

Video: Rutgers community shocked by suicide

Video: NJ Gov: How will they sleep?
Meanwhile, New Jersey prosecutors Friday were determining whether additional charges, including bias, may be brought against Ravi and Wei.
On the evening of September 19, Ravi allegedly sent a message by Twitter about his roommate, Clementi.
"Roommate asked for the room till midnight. I went into molly's room and turned on my webcam. I saw him making out with a dude. Yay."
Ravi tried to use the webcam again two days later, on September 21, according to the Middlesex County prosecutor's office.
"Anyone with iChat, I dare you to video chat me between the hours of 9:30 and 12. Yes it's happening again," Ravi is believed to have tweeted.
The next day, Clementi, 18, was dead.
A mobile status update September 22 on a Facebook page purportedly belonging to Clementi said: "jumping off the gw bridge sorry."
Details about Clementi's sexual orientation are unclear. Rutgers University student Danielle Birnbohm, who lived next door to Clementi's and Ravi's room in the dorm, told CNN affiliate WPIX that Clementi was gay. "It was obvious," she said.
Ravi apparently tweeted a message on August 22, nine days before classes began at Rutgers. "Found out my roommate is gay?" the tweet, believed to be posted by Ravi, said, according to Topsy, a search engine that allows users to access tweets removed from Twitter. In that same tweet, the writer linked to a thread on JustUsBoys.com.
On another page on JustUsBoys.com, someone posted a thread labeled "college roommate spying."
A user dubbed cit2mo wrote on September 21, a day before Clementi jumped from the bridge, "so the other night i had a guy over. I had talked to my roommate that afternoon and he had said it would be fine w/him. I checked his twitter today. he tweeted that I was using the room (which is obnoxious enough), AND that he went into somebody else's room and remotely turned on his webcam and saw me making out with a guy."
Cit2mo asked readers what he should do, including whether to get another roommate.
Several people who responded to cit2mo's post said the webcam was an invasion of privacy. Cit2mo said he might talk with a resident assistant in the dorm.
Cit2mo later responded that he had reported the incident.
"He [the resident assistant] seemed to take it seriously... he asked me to email him a written paragraph about what exactly happened... I emailed it to him, and to two people above him...."
CNN was unable to determine whether cit2mo was Clementi, but a lawyer for JustUsBoys.com said the posts were traced back to Rutgers.
Amid the intense public attention Clementi's death has drawn, his family remained quiet Friday, except to say that their personal tragedy has raised a host of legal issues for the country.
"We understand that our family's personal tragedy presents important legal issues for the country as well for us," said a statement from the family.
"Regardless of legal outcomes, our hope is that our family's personal tragedy will serve as a call for compassion, empathy and human dignity," the statement said.
The university plans to hold a candlelight vigil Sunday evening as "an opportunity to come together in this difficult time to reaffirm our commitment to the values of civility, dignity, compassion, and respect for one another," McCormick said.
CNN's Ross Levitt contributed to this report.
FOLLOW THIS TOPIC