Accused would-be DC metro bomber pleads not guilty in federal court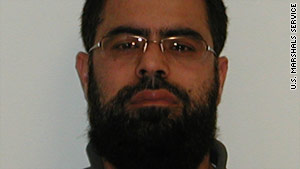 Farooque Ahmed is accused of helping in an alleged plot to bomb Washington-area subway systems.
STORY HIGHLIGHTS
Farooque Ahmed is accused of trying to help bomb the subway system near Pentagon
A trial date of April 11, 2011, is set
He will remain in custody pending trial
Alexandria, Virginia (CNN) -- The man accused of attempting to help bomb subway systems in the Washington area pleaded not guilty Tuesday at his arraignment in U.S. District Court.
Farooque Ahmed, 34, is charged with attempting to provide material support to a designated terrorist organization, collecting information to assist in planning a terrorist attack on a transit facility and attempting to provide material support "to help carry out multiple bombings to cause mass casualties" at Washington Metro stations in the vicinity of the Pentagon.
He was arrested last month at a hotel in Herndon, Virginia, authorities said.
The FBI said Ahmed had conducted surveillance for undercover agents whom he believed to be al Qaeda co-conspirators.
At his hearing Tuesday, Ahmed -- wearing a green prison jumpsuit and sporting a bushy black beard -- said only, "Yes, sir," when asked by the judge to confirm his signature on a document waiving his right to a speedy trial.
A not-guilty plea was entered by attorney Todd Richman on Ahmed's behalf.
A jury trial is set to begin April 11, 2011. Ahmed will remain in custody pending trial.
Search warrants in the investigation of the alleged plot were unsealed at the hearing. According to the documents, authorities found three weapons at Ahmed's home at the time of his arrest: a Smith & Wesson pistol, a 12-gauge double-barrel shotgun and a Remington rifle, along with ammunition, .
Also discovered was a biography of American-born Yemeni cleric Anwar al-Awlaki, who is believed to be a senior leader of al Qaeda in the Arabian Peninsula. The Yemen-based arm of the al Qaeda network has most recently claimed responsibility for the attempt to ship explosives into the United States via cargo planes.
U.S. officials say al-Awlaki also helped recruit Umar Farouk AbdulMutallab, the Nigerian man charged with trying to blow up a Northwest Airlines trans-Atlantic flight at it approached Detroit, Michigan, on December 25.
Ahmed, a naturalized citizen, is a native of Pakistan. He holds a college degree in computer science and had been employed at a telecommunications company in suburban Virginia.
FOLLOW THIS TOPIC