Mental evaluation of suspected Fort Hood shooter to continue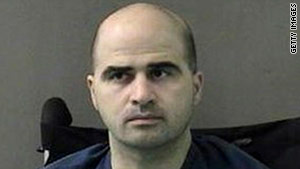 Maj. Nidal Hasan is accused in the November 5, 2009, shootings in which 13 people were killed.
STORY HIGHLIGHTS
NEW: A Pentagon panel of mental health experts will continue the evaluation Thursday
The lead defense attorney, John Galligan, continues to object to the evaluation
He says it should wait until he and his client receive evidence he says is being kept secret
A report from a Senate committee may be released soon, a spokeswoman says
Washington (CNN) -- The mental evaluation of Army psychiatrist Maj. Nidal Hasan, accused of killing 13 perople at Fort Hood, Texas, last November, is set to continue for a third day on Thursday.
Hasan's lawyer, John Galligan, confirmed to CNN late Wednesday that the Pentagon-appointed panel of mental health experts will return to the jail near Fort Hood where their evaluation of Hasan is taking place.
Galligan, who is denied access to the evaluation, repeatedly tried to have it postponed on the grounds that all the evidence in the case, including some held by the White House and Defense Department, has not been provided to him. Galligan, a former military lawyer and judge, has been sharply critical of how the case has been handled, calling it "a government free for all."
If the mental evaluation finds Hasan competent to face trial, the Army can move the case forward to a court martial where Hasan could face the death penalty.
Hasan is accused of killing 13 people and wounding 32 others at a crowded Fort Hood medical center where he and others were being processed to deploy overseas.

2009: Retracing Hasan's trail

2009: Could Hasan have been stopped?
Members of Congress also have been seeking additional information about what federal intelligence officials knew of Hasan and how he was evaluated and promoted by his commanding officers.
Leslie Phillips, a spokeswoman for Sen. Joe Lieberman, chairman of the Senate Homeland Security and Governmental Affairs Committee, said he hopes to release a report next week.
An Army colonel who presided over an evidentiary hearing in the Hasan case recommended late last month that it move forward to a court martial with a possible death penalty for Hasan. The Army prosecutors put up dozens of witnesses, several of whom pointed to Hasan and identified him as the person responsible for the Fort Hood shooting.
Meanwhile, Galligan said in a telephone interview earlier this week that, "This is the worst example of military justice I've seen in my career ... This thing is all being scripted from Washington."
"They don't mind examining his mind but they don't want to examine his existing medical problems," Galligan said. The attorney has been a vocal critic of the care of Hasan, who was shot and paralyzed from the chest down by police who responded to the mass shooting.
FOLLOW THIS TOPIC