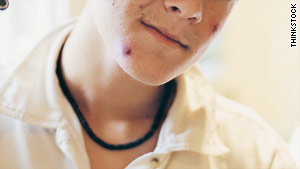 Teens with bad acne are at a greater risk of having suicidal thoughts than their peers.
STORY HIGHLIGHTS
Kids with severe acne are twice as likely to have mental health problems
One-fifth of teenagers develop moderate to severe acne
Researchers do not know if acne treatments, such as isotretinoin, played a role
(Health.com) -- Compared to their clear-skinned peers, teens who have bad acne are more than twice as likely to have mental health problems and are at greater risk of having suicidal thoughts, according to a new study of Norwegian youth.
Nearly all teenagers have some pimples, and up to one in five will develop a moderate to severe case of acne.
A bad complexion can be psychologically devastating at "a critical point in human development where self-image and confidence [are] being established," says Dr. Jerry Tan, M.D., a dermatologist at the University of Western Ontario, in Canada.
Health.com: 8 steps to healthy skin at every age
"There are hidden consequences to acne -- particularly severe acne," says Tan, who was not involved in the study.
However, the researchers can't say for sure if acne is to blame or whether isotretinoin and other acne treatments may have played a role; they don't know how many teens in the study (or which ones) were being treated.
Isotretinoin, the active ingredient in brand-name drugs such as Accutane and Claravis, has been linked to depression, suicide, and suicidal thinking in the past.
Health.com: 10 things to say (and not say) to someone with depression
"There has been a lot of controversy about this, especially in the U.S.," says the lead author of the study, Dr. Jon A. Halvorsen, M.D., of the University of Oslo, in Norway. "But depression and suicidal [thoughts] in acne reflects the burden of acne, rather than being a side effect of isotretinoin."
In the study, which was funded by the Norwegian Institute of Public Health and published in the Journal of Investigative Dermatology, the researchers surveyed nearly 4,000 teens ages 18 or 19. Fourteen percent of the teens reported having "a lot" or "very much" acne.
Nearly 25 percent of the teens with "very much" acne said they'd had thoughts of suicide, compared with 11 percent of the study participants overall.
Health.com: How to spot the warning signs of suicide
In addition, the teens with bad acne were 52 percent more likely to have low attachment to friends. They were also more likely to do poorly in school, and were less likely to have had a boyfriend or girlfriend.
The psychological impact of acne appears to be greater in boys than in girls. The researchers aren't sure why this is, although they say it could be because girls tend to treat their acne more aggressively than boys.
The findings "are not surprising and agree with what I see in clinical practice," Tan says. "Those with more severe acne have greater psychological problems and social impairment."
The study couldn't prove that acne directly causes suicidal thinking and other mental health problems. As the researchers note, the link could run in the other direction: Psychological stress may make acne worse.
Health.com: 10 no-cost strategies to fight depression
Nor does the study close the book on the purported link between isotretinoin and depression, Tan says, although he adds that the evidence for the link was not particularly compelling to begin with.
"While these results do not exonerate isotretinoin in causing depression, it does suggest that severe acne in and of itself is associated with suicidal [thoughts]," he says.
Suicidal thoughts sometimes lead to suicide attempts. Suicide currently ranks second (behind injuries) as the leading cause of death among adolescents in the industrialized world, according to background information in the study.
Copyright Health Magazine 2011
FOLLOW THIS TOPIC