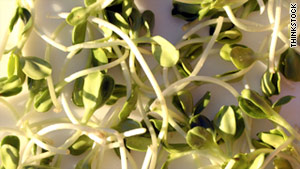 A preliminary investigation of the salmonella outbreak shows a possible link to alfalfa sprouts.
STORY HIGHLIGHTS
CDC says 89 people have been sickened
Sandwich chain part of investigation
Jimmy John's says sprouts tested negative
Still, Illinois stores pull sprouts from menu
(CNN) -- A salmonella outbreak linked to alfalfa sprouts has sickened 89 people in 15 states and the District of Columbia, the Centers for Disease Control and Prevention reported Thursday.
About 23% of those sickened were hospitalized, but no deaths have been reported, according to the CDC.
Health officials say the first cases identified date to November 1. The preliminary investigation shows a possible link to alfalfa sprouts.
"Preliminary results of this investigation indicate a link to eating alfalfa sprouts at a national sandwich chain," the CDC said in a statement.
In Illinois, where the bulk of cases have been identified, the state Department of Public Health says many of 50 sickened residents reported eating alfalfa sprouts at locations of Jimmy John's.

What is salmonella?

Safe from salmonella?
The founder of Jimmy John's said test results of sprouts from its main supplier tested negative.
In a letter sent to all Jimmy John's franchises, founder Jimmy John Liautaud said store locations have all come up negative for the bacteria as well.
"As a goodfaith and goodwill gesture I am asking Illinois stores to pull sprouts until the state can give us some better direction," the letter states. "We are working closely with the state and they are doing a darn good job in helping find the source. Again, no source has been found yet, this is a precautionary measure."
According to the CDC, Illinois has 50 cases, Missouri reports 14 cases, Indiana reports 9, Wisconsin has three and Pennsylvania reports two. Connecticut, Georgia, Hawaii, Iowa, Massachusetts, New York, South Dakota, Tennessee, Texas, Virginia and the District of Columbia all have one confirmed case
The CDC is working with the Food and Drug Administration and state public health departments to investigate this outbreak. Health officials have identified the particular strain of salmonella through diagnostic testing.
The strain has been identified as Salmonella serotype I 4,[5],12:i:-.
This is a common type of salmonella, says Chris Braden, a physician and director of the CDC's Division of Foodborne, Waterborne and Environmental Diseases. "Alfalfa sprouts have been associated with a number of outbreaks" Braden adds.
The FDA and state health departments will be investigating the sprout growers, as well as the seed suppliers, in an effort to find the source the outbreak, Braden said.
"The FDA is aware of the situation and is working with the CDC to determine the cause of the illnesses," Michael Herndon, a FDA spokesman, confirmed Thursday. "As more information becomes available we will alert the public."
Salmonella is a bacterial infection that usually last four to seven days. The infected person develops fever, abdominal cramps and diarrhea between 12 and 72 hours after becoming infected. Most people recover without treatment. Very young and very old people, as well as those with weakened immune systems, can suffer severe illness and, in the worst cases, possibly death, according to the CDC.
About 40,000 cases of salmonella are reported each year in the United States, the agency said.
The CDC recommends anyone suspecting he or she may be ill from eating contaminated food should talk to their doctor. Pregnant women, children and the elderly should avoid eating all raw or undercooked sprouts, the CDC suggests. The only way the bacteria can be killed is by thoroughly cooking the sprouts.
FOLLOW THIS TOPIC