10 key pieces every woman must own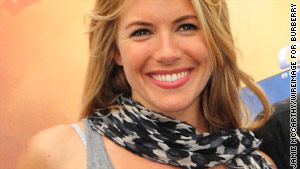 Use accessories, like a print scarf, to brighten and complete your look.
STORY HIGHLIGHTS
Stylist who works with stars lists pieces that every woman should have in her closet

Make a statement with something small, like a necklace, scarf or red flats

Tights, when chosen and worn correctly, can help you wear that dress that is borderline too short

A classic Trench coat can be paired with jeans or a suit
(InStyle.com) -- Star stylist Nicole Chavez, who collaborates with celebrities like Rachel Bilson, Kristen Bell and Scarlett Johansson, tells you the key pieces every woman should have in her closet.
Black blazer
"A tailored blazer is classic, feminine and looks great on all body types. Pair it with anything: jeans, little dresses, trousers, skirts. Make sure to find one that fits you well and accentuates your waist--you don't want it to look like it's swallowing you!"
Leopard print scarf
"Even if you're wearing a basic T-shirt and jeans, use accessories like a printed scarf as the 'bright' piece to complete your look."
Red Flats
"Black is the obvious choice, but red flats provide a pop of color and work for every season. I love to pair them with a striped shirt and a trench coat."
Striped Shirt
"This timeless classic is having a comeback. It looks great paired with brights or prints or peeking out from underneath a blazer."
Statement Necklace
"I believe in having basics in your closet and playing with your accessories. The statement necklace can make a simple outfit look strong and feminine."
Little Black Dress
"Every woman knows she should have a little black dress, but it's important to invest in one that's special. Look for a dress with a detail--an interesting sleeve, an embellished belt--that makes it unique. And remember that finding the right fit is important!"
Hairstyles that are always in style
Black Opaque Tights
"A great pair of tights can make your legs look slimmer and help you get away with wearing a dress that's a little too short. Double them up for a more opaque look -- and to keep you warm in the winter!"
Oversize Watch
"A watch is as much an accessory as it is a timepiece. A gold watch is a great way to dress an outfit up -- try leaving it loose so it looks like a bracelet."
Flared Jeans
"This is a flattering shape for most body types. Pair them with platforms or wedges to get extra height while keeping the look casual and comfortable."
Classic Trench
"Think of this as an investment piece -- you'll wear it forever, even if you fluctuate in size. Look for a classic A-line silhouette that will cinch you in at the waist and wear it over everything from suits to jeans."
See more fashion coverage at InStyle.com
Get a FREE TRIAL issue of InStyle - CLICK HERE!
Copyright © 2011 Time Inc. All rights reserved.