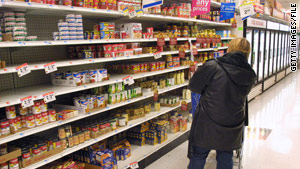 Some 3.3 billion packaged goods coupons were redeemed in 2009.
STORY HIGHLIGHTS
The recession has triggered a 27 percent jump in coupon use

The jump marks the first increase from the year prior in 17 years

Coupon Web sites have been launched to help savvy shoppers

(CNN) -- Americans cashed in 3.3 billion coupons in 2009, a 27 percent jump from the previous year when news of the financial crisis tipped the country into recession, according to a new report.
The rise in coupon use started in October 2008 as bailouts and layoffs consumed the United States, leaving households frustrated and looking for ways make ends meet.
Enter the trusty coupon.
Some 3.3 billion packaged goods coupons were redeemed in 2009 compared to the 2.6 billion redeemed in 2008, marking the first time in 17 years that consumers used more coupons than the year before, according to the study by Inmar, a North Carolina-based company that tracks coupons and promotion trends.
"People are looking for ways to save money; naturally they look to groceries and coupons," said Stephanie Nelson, whose Atlanta, Georgia-based CouponMom.com is among the most popular coupon strategy Web sites.
Nelson credits the dramatic increase in coupon use not only to the recession, but the growing popularity of such shopper-friendly sites and the easy availability of coupons. Once only found in the Sunday paper, consumers can find on-demand deals on blogs and manufacturer sites on the Web whenever they're ready to jot down their shopping lists.
The increase in redeemed coupons also coincides with an increase in distribution. So, even amid an economic downturn, marketers invested in coupon promotions, according to the study released this month. Brands issued 367 billion coupons at an average face value of $1.44 -- the most in three decades.
"There has been a noticeable increase in page count over the past year," said Jesse Aversano, a senior executive at News America Marketing which oversees the SmartSource Magazine coupon inserts, in a statement. "Manufacturers understand that in a tough economy, coupons are an effective and efficient way to spend their advertising dollar."
Traditional newspaper coupons still accounted for most of coupon distribution at 89 percent and more than half of coupons redeemed. But, distribution of online coupons also jumped 92 percent, and the redemption of those coupons more than tripled, according to Inmar.
None of this comes as a surprise to Joanie Demer, a married mother of two who co-founded TheKrazyCouponLady.com site in October 2008. At the time, Demer and her college-buddy-turned-business-partner, Heather Wheeler, were simply looking for ways to save a buck as a couple of moms in Boise, Idaho.
They clipped coupons, searched for deals and shared their finds on their new site. But then Demer's husband lost his job that November and her daughter was hospitalized with a severe respiratory infection. She had no insurance coverage.
By the new year, coupons were no longer an addictive hobby, but a necessity. She doubled up on coupons, hopped store-to-store and did what every savings maven knows is key to being a successful clipper: Stockpiling.
It's the ultimate strategy of buying the most of something at it's absolute cheapest. Time coupons just right, and you should never have to make a rush-hour grocery run for a pantry staple.
"I had it down," Demer says of her stockpile back then. "We lived off what I stockpiled, and it really saved us."
Now she offers stockpiling tips to Web surfers. "We use coupons absolutely on everything we can ... like toothpaste -- once you're a coupon lady you don't pay for toothpaste anymore."
Nelson said the number of registered users on her Web site has soared from 200,000 in January of 2008 to 2.2 million now -- a tenfold increase. The number of visitors each month has boomed from roughly 60,000 to 1.2 million.
So coupons can help through the tough times. But what about when things get better? Will the new generation of coupon clippers stick to it when the economy turns around?
While retail experts aren't sure how long the trend will continue, the coupon pros say most users will stick to it.
"I will never in my life be able to shop any other way," Demer said. "It would sicken me to spend that much again."
Nelson also expect most of the coupon users to keep up with their good habits, but said it would be up to manufacturers to keep their promotions engaging.