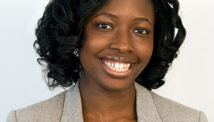 STORY HIGHLIGHTS
Erica Williams: Majority of young voters cast ballots for Democrats, not Republicans
Candidates who should have, did not court young voters loyal to Obama, she says
Williams: Democrats must target young voters respectfully and early for 2012 success
Editor's note: Erica Williams is deputy director of Progress 2050 and a senior adviser to Campus Progress, both projects of the Center for American Progress, a Washington-based organization that describes itself as dedicated to progressive causes. She can be found at on Twitter at @ericawilliamsdc.
(CNN) -- Many will call the 2010 election the rejection of the Obama agenda heard round the world. But young voter turnout tells a very different story.
CNN's exit polls show 55 percent of voters age 25 to 29 voted for Democrats, compared to 42 percent for Republicans. Even more progressive, 58 percent of voters age 18 to 24 voted for Democrats compared to 39 percent for Republicans.
Ironically, the group often labeled fickle and impatient have remained solidly committed to the agenda of change they overwhelmingly voted for in 2008. In the face of record unemployment and the very circumstances that pundits speculate make the country more resistant to change, young voters sent a very clear message of support for Obama's agenda.
So if the largest and most diverse generation in American history is so progressive, and members voted decisively Democratic, why the so-called "Republican tsunami?"
Because Obama himself wasn't on the ticket.

Will Obama recover from setback?

What's next for Obama post election?

Armey: Obama 'passively disinterested'
The candidates who were running had the responsibility to engage and turn out young Obama voters -- and apparently completely failed to do so.
According to the Center for Information and Research on Civic Learning and Engagement, or CIRCLE, a nonpartisan think tank that researches the civic and political engagement of young Americans, early exit poll estimates put the share of votes cast by young people at 10 percent, compared with 12 percent in 2006.
CIRCLE found the turnout rate -- that is, the percentage of 18 to 29 year olds who voted -- is hovering around 20 percent, compared with 23 percent in 2006. Placing 2010 in its proper historical midterm context shows that the actual difference in share and turnout from four years ago to now is relatively minor. But candidates and campaigns expecting a magic showing of young Americans comparable with 2008's record levels were quite disappointed.
For young voters, Tuesday was the manifestation of a basic, tried and true campaign rule that applies to all voters, young and old, black and white, Republican and Democrat -- to turn out voters you must target them respectfully and early. Case in point: In youth-dense precincts targeted by Rock the Vote and nonpartisan voter engagement groups within the Vote Again 2010 coalition, youth turnout rose from 2006. If only candidates had learned the not-so-tricky trick.
The good news for Obama and 2012 progressive candidates is that there is still hope. Young voters have not shied away from the political ideology that is intrinsic to their generational identity.
If campaigns invest the time, energy and resources in speaking to young people where they are, talk boldly and consistently to them about the issues they care about in ways that appeal to them and frankly, target them the way every other "key" (translate: respected) voting block is targeted, we could see a very different picture in 2012.
The opinions expressed in this commentary are solely those of Erica Williams.
FOLLOW THIS TOPIC