Source: Counterterrorism director vacationed days after failed attack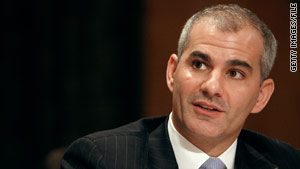 Michael Leiter was in constant contact with the White House during his shortened vacation, a source says.
STORY HIGHLIGHTS
Michael Leiter was at National Counterterrorism Center on day of failed attack, source says
Source: Leiter took shortened vacation two days after failed plane bombing
Leiter always was in contact with relevant officials during trip, source says
National Counterterrorism Center criticized for not having pieced together info to thwart attempt
Washington (CNN) -- A top U.S. intelligence official did take a shortened vacation two days after a botched terror attack on a U.S. passenger jet, but remained in constant contact with national security officials and the White House about the situation, a source told CNN Thursday.
Michael Leiter, the director of the National Counterterrorism Center, was at the center December 25 when authorities say a Nigerian man tried to ignite an explosive on a Northwest Airlines jet as it approached Detroit, Michigan. Leiter also worked December 26 before leaving on a vacation he shortened in light of the incident, according to a source familiar with the situation.
Leiter remained in constant, secure communication with all relevant NCTC officials, the White House and presidential staff in Hawaii, where President Obama was vacationing at the time, the source said.
The source spoke after a report Thursday in the New York Daily News paraphrased two U.S. officials as saying that Leiter "decided not to return to his agency's 'bat cave' nerve center in McLean, Virginia, until several days after Christmas."
One of those officials was quoted as saying that "people have been grumbling that he [Leiter] didn't let a little terrorism interrupt his vacation."
The NCTC declined to make an official comment on the matter.
The NCTC, which was created after the September 11, 2001, terror attacks to weigh information to help counter terror plots, is one of the agencies that has been criticized in the aftermath of the failed Christmas attack for not having put together pieces of information that may have prevented suspect Umar Farouk AbdulMutallab from boarding the Northwest Airlines plane in Amsterdam, Netherlands.
AbdulMutallab has been charged with attempted use of a weapon of mass destruction and attempted murder within the special aircraft jurisdiction of the United States, among other charges.
If convicted, the 23-year-old Nigerian national would face a sentence of life in prison.