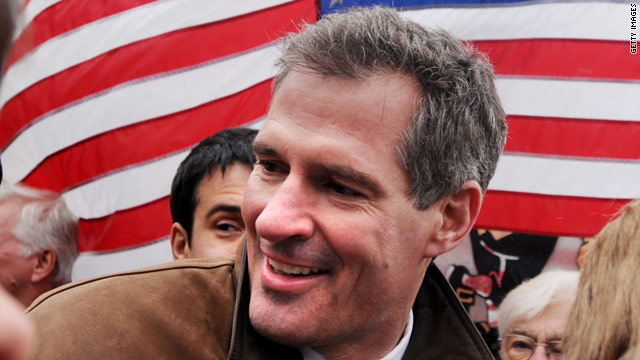 STORY HIGHLIGHTS
Scott Brown, a Republican, won the Massachusetts special election
Brown, 50, has been a state senator since 2004
He has a wife -- a TV news reporter -- and two daughters
Washington (CNN) -- The morning after winning the Massachusetts Senate special election on Tuesday, Scott Brown was still trying to take it all in.
"If you would have told me growing up [that] a guy whose mom is on welfare and parents had some marital troubles -- and I had some issues growing up ... would be standing before you right now, going to Washington D.C.? Are you kidding me?" Brown said at a news conference Wednesday.
When asked if he had aspirations for a 2012 president run, Brown -- who beat Democrat Martha Coakley in an election to fill the late Sen. Ted Kennedy's Senate seat -- seemed surprised by the question.
"I don't want to be disrespectful but I've had no sleep right now," he replied. "I haven't even been down to Washington yet. I don't want to say that's a silly question, but I'm just so thankful for the support that I've received from everybody."
Brown, 50, grew up in Wakefield, Massachusetts. His parents divorced when he was young.
"My mom was on welfare a little bit, and, you know, I lived with my grandparents, I lived with my aunt, whatever. I was a jerk. I had some issues. You know, I was lost," Brown told the Boston Globe last November. "Mom was always working. ... There was some violence in there where I would be sticking up for my mom and sisters."
He earned a degree from Tufts University and went on to law school at Boston College.
It was there that he gained his greatest notoriety before Tuesday -- during law school, Brown was a model and won Cosmopolitan Magazine's "America's Sexiest Man" contest in 1982 -- appearing nude in the pages of the women's magazine. The spread was fodder for comedians and opponents alike during the Senate campaign.
Brown has served in the Massachusetts Army National guard for nearly three decades and holds the rank of Lt. Colonel in the Judge Advocate General Corps, the Army's legal arm.
His political career began in 1992 as a property assessor in Wrentham -- a small town of about 11,000 people 35 miles southwest of Boston, Massachusetts. He won a seat in the Massachusetts House in 1998 and the Massachusetts Senate in 2004.
Brown is married to Gail Huff, a Boston TV reporter, and has two daughters, Ayla -- a finalist on Fox's "American Idol" and basketball player at Boston College -- and Arianna, who attends Syracuse University.
He's also an avid basketball player. Before the election, the Republican said that if he should win, he wanted to play a round of basketball with his daughter and President Obama.
Brown campaigned as a pickup truck-driving regular guy, focusing on voter frustrations and pledging to send Obama's health care bill "back to its drawing board."
Brown's victory strips Democrats of their 60-seat Senate supermajority, needed to overcome GOP filibusters against future Senate action on White House priorities. In the 2008 presidential election, Obama had a 26-point victory in the state over his GOP presidential candidate John McCain.
So what type of Republican is he aiming to model himself after?
"I was asked many times about what type of Republican I would be and I didn't really know how to answer that so I just said 'I'm going to be a Scott Brown Republican,' " he said. "Maybe there's a new breed of Republican coming to Washington."
That could be part of the reason that a Republican won in the solidly blue state.
Analysts note that part of the push for Brown came from a large swath of angry independents.
Based on a CNN analysis of the raw vote at the town level, there was a shift in independents' support.
"Brown rolled up solid margins in towns where more than half of the voters are registered independents," CNN Polling Director Keating Holland said. "The higher the number of registered independents, the better Brown did."
Jeremy Powers, an independent voter in Massachusetts, has voted Democratic in the past but on Tuesday voted for Brown. He said he was turned off both by Martha Coakley, Brown's Democratic opponent, and by Democrats in Congress.
"I didn't like the process of coronation that I felt was taking place by the Coakley campaign and the Democrats. Scott Brown worked hard. He deserved to win," Powers said.
"I didn't want to see a health care plan rammed through in just a 'yes' vote rubber-stamped by Coakley," he said. "I think as a nation we really need to look at exactly how much this is going to cost and we don't even know what the final bill is yet."
Throughout the campaign, Brown railed against what he deemed wasteful government spending and higher taxes, as well as the Democrats' health care reform plan in Congress.
Matt Coleman, another independent voter, said health care was a key issue for him.
"I think it's more of the health care issues and the increased taxes that are going to be put upon us," he said. "There's something rotten in Denmark and it's ridiculous. It's absolutely absurd."
CNN Chief National Correspondent John King contributed to this report.