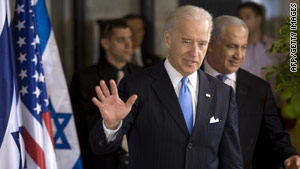 Vice President Joe Biden and Israeli PM Benjamin Netanyahu arrive to speak to the media in Jerusalem on Tuesday.
STORY HIGHLIGHTS
NEW: Biden takes issue with Israel's decision to build housing in a Jerusalem neighborhood
VP meets with Israeli president, prime minister, calls bond with Israel "unshakable"
Israeli president: International community needs to do more to support Palestinian institutions
Israeli leaders call for sanctions against Iran; Biden reasserts stand against Iranian nukes
Jerusalem (CNN) -- U.S. Vice President Joe Biden emphasized the close relationship between the United States and Israel as he met with Israeli leaders Tuesday, a visit that also touched on relations with Palestinians and Iran.
Biden, who arrived in Israel on Monday, first met with Israeli President Shimon Peres at his official residence in Jerusalem.
"The bond between our two nations has been and will remain unshakable," Biden wrote in the guest book. "Only together can we achieve lasting peace in the region."
Biden said he hoped the talks with Peres would be "a vehicle by which we can begin to allay that layer of mistrust that has built up in the last several years" between the two countries.
"There is absolutely no space between the United States and Israel when it comes to Israel's security -- none at all," Biden said.
Peres began a long discussion about what the United States should do about Iran and the Middle East peace process. Iranian President Mahmoud Ahmadinejad's statements about Israel, he said, were a coverup for the "hegemony" it seeks in the region.
"The United States should lead the Iranian policy," Peres said. "There is nobody else in the world."

Video: Biden arrives in Jerusalem
A country like Iran "that calls for acts of terror" and "hangs people in the streets" cannot be a full member of the United Nations, he said.
Peres called for "moral sanctions" along with economic ones against Tehran.
Peres then turned to the Palestinian issue, saying the international community needs to do more to support Palestinian institutions. The building of a state, he said, should not be exclusive of negotiation.
Biden took notes as Peres spoke. The vice president said that he has been a friend of Israel's since he was a 29-year-old senator and that "Israel captured my heart."
He recalled his first visit to the country as a young senator, when he met with then-Prime Minister Golda Meir and sat next to her as she was chain-smoking. On the other side of him sat Yitzhak Rabin, who would later become prime minister.
"We are at a moment of real opportunity," he said of the current peace process. "I think that the interests of the Israeli and Palestinian people, if everybody stops and takes a deep breath, are actually more in line than they are opposites."
Peres called Biden a "true friend" of Israel, and Biden said, "It's good to be home."
After the genial visit with Peres, Biden walked around the corner to meet with Prime Minister Benjamin Netanyahu at his residence.
America's relationship with Israel, Biden said, "has been and will continue to be the centerpiece of American policy."
On Iran, Biden said the United States is "determined to prevent Iran from acquiring nuclear weapons ... and Iran must curtail its other destabilizing actions" such as supporting terrorism in the region.
Netanyahu urged countries to join the United States in supporting sanctions against Tehran.
Biden is the highest-ranking member of the Obama administration yet to visit Israel, and he emphasized America's close ties with the nation throughout the morning. But he also highlighted his personal ties to both Peres and Netanyahu, calling the latter a "real" friend.
"We've been personal friends for almost three decades. Can you believe it's been that long?" Netanyahu asked at the start of their meeting.
"You're getting older, Bibi," Biden said, using the prime minister's nickname.
But hours after meeting with the Israeli leaders, Biden took issue with Israel's decision to build housing units in a Jerusalem neighborhood.
"I condemn the decision by the government of Israel to advance planning for new housing units in East Jerusalem," Biden said in a statement.
"The substance and timing of the announcement, particularly with the launching of proximity talks, is precisely the kind of step that undermines the trust we need right now and runs counter to the constructive discussions that I've had here in Israel."
Israel announced plans earlier Tuesday to build 1,600 housing units in Jerusalem, but denied the new construction is in East Jerusalem -- a sticking point in the Mideast peace process.
And at a briefing in Washington, White House press secretary Robert Gibbs echoed Biden's condemnation.
On Wednesday, Biden plans to go to the West Bank and meet with Palestinian leaders including Palestinian Authority President Mahmoud Abbas and Prime Minister Salam Fayyad.
The next day, Biden is scheduled to deliver a major speech at Tel Aviv University titled "The Enduring Partnership Between the United States and Israel."
Biden also plans a one-day trip to Jordan at the end of the week, when he will meet with King Abdullah.
CNN's Kevin Flower contributed to this report.