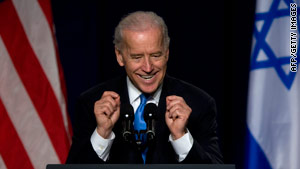 Vice President Joe Biden delivers a speech Thursday at Tel Aviv University in Israel.
STORY HIGHLIGHTS
Vice president bluntly criticizes plan for apartments on disputed land
Palestinians say it's in East Jerusalem, Israelis say it's not
Israeli prime minister apologizes to Biden for timing of decision
Vice president on week-long visit to Middle East
Jerusalem (CNN) -- Palestinian Authority President Mahmoud Abbas says it is difficult to have any negotiations with Israel unless it revokes plans to build new homes on disputed land in Jerusalem, Abbas' top negotiator said Thursday.
Abbas made the comment while speaking to Amr Moussa, secretary-general of the Arab League, negotiator Saeb Erakat said.
Abbas told Moussa he has asked the United States to demand that Israel stop the construction.
Israel announced Tuesday it would build 1,600 new apartments on land that both Israel and the Palestinians claim. The Palestinians contend the area is in Arab East Jerusalem; Israel's Interior Ministry says it is not.
The dispute came during a visit to Israel and the West Bank by Vice President Joe Biden. He criticized Israel's decision to build the apartments, saying Wednesday that it undermines the trust both sides need for negotiations.
The timing of the announcement left many wondering whether it was a calculated slap in the face of the United States or simply undiplomatic timing. Israeli Prime Minister Benjamin Netanyahu's office has said it was the latter, and Thursday the office said Netanyahu had spoken to Biden and "expressed his regret for the unfortunate timing."
Netanyahu also summoned Interior Minister Eli Yishai and expressed his displeasure, his office said.

Video: Obama's Middle East strategy

Video: Biden arrives in Jerusalem

Video: Regev: 'We were also surprised'
"In light of the ongoing disagreement between Israel and the U.S. on building in Jerusalem, the prime minister said there was no need to advance the planning process this week and instructed the interior minister to adopt procedures to prevent such an incident from recurring," Netanyahu's office said in a statement.
Planning of the building project has taken several years and final approval won't come for more than a year, Netanyahu told Biden, his office said. Actual construction is likely to take several more years, he said.
Speaking Wednesday in Ramallah, on the West Bank, Biden said the United States will hold both Israel and the Palestinians responsible for any steps that make peace between them more difficult.
Watch an Israeli spokesman explain the timing
Biden said he "immediately condemned" Israel's plans to build the new apartments.
His unusually blunt criticism came after Israel and the Palestinians had agreed earlier in the week for indirect talks, to be carried out with U.S. envoy George Mitchell. Indirect talks are a step toward direct negotiations.
Palestinian Prime Minister Salam Fayyad said his side appreciated "the strong statement of condemnation by the U.S. administration."
Biden arrived in Israel on Monday and has met with both Netanyahu and Israeli President Shimon Peres. He delivered a major speech at Tel Aviv University on Thursday titled "The Enduring Partnership Between the United States and Israel."
Biden also plans a one-day trip to Jordan at the end of the week, when he plans to meet with King Abdullah.
CNN's Michal Zippori contributed to this report.