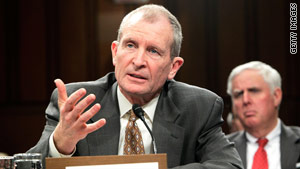 National Intelligence Director Dennis C. Blair has been unhappy and frustrated, two Senate sources say.
STORY HIGHLIGHTS
Resignation of National Intelligence Director Dennis C. Blair is effective May 28
White House was "just not comfortable with this guy," source says
Senate committee report criticized counterterrorism unit overseen by Blair's office
Criticism stemmed from failed Christmas Day bombing of Detroit-bound flight
Washington (CNN) -- The president's top intelligence adviser, National Intelligence Director Dennis C. Blair, announced his resignation Thursday in a move sources said came amid increasing tensions with the White House.
Blair, a retired four-star Navy admiral who has served in the post since January 2009, said his resignation is effective May 28. His office oversees 16 federal agencies of the U.S. intelligence community, including the CIA, FBI and Department of Homeland Security.
"I have had no greater honor or pleasure than to lead the remarkably talented and patriotic men and women of the intelligence community," Blair said in a statement. "Every day, you have worked tirelessly to provide intelligence support for two wars and to prevent an attack on our homeland.
"Your work over the past 16 months has made the intelligence community more integrated, agile and representative of American values. Keep it up -- I will be cheering for you," he said in the statement.
President Obama in a statement praised Blair's "remarkable record of service" and his leadership as director of national intelligence.

Video: Why Blair is stepping down?
"During his time as DNI, our intelligence community has performed admirably and effectively at a time of great challenges to our security," Obama said, "and I have valued his sense of purpose and patriotism. He and I both share a deep admiration for the men and women of our intelligence community, who are performing extraordinary and indispensable service to our nation."
However, a source familiar with the situation said Blair and the White House didn't share "the same view of what the DNI should be."
The White House was "just not comfortable with this guy," the source said.
"This is not an administration in which you speak truth to power," the source said. "That is what he did. He is a candid, straightforward guy, and if they have a message, they will control it. ... This is a somewhat perilous time, and the White House would rather run things all by themselves."
Still, others pointed out that Blair's resignation came on the heels of an important intelligence trip to Pakistan -- on which he was not sent -- and two days after the Senate Intelligence Committee released a report that sharply criticized the National Counterterrorism Center -- overseen by Blair's office -- for failing to coordinate intelligence activities properly to detect the botched Christmas Day airline bombing in advance.
The president sent CIA Director Leon Panetta and national security adviser James Jones to Pakistan to talk with officials about the relationship of the accused Times Square bomber with the Pakistani Taliban, and "to underscore the importance that all efforts are taken to suppress terrorism that emanates from that part of the world," White House counterterrorism chief John Brennan has said.
According to senior intelligence officials, Blair's resignation had been anticipated, but the timing of his announcement Thursday was sooner than expected.
Blair, whose office is over the CIA and National Security Agency, decided to leave his post when he was not asked to participate in the high-profile trip, the intelligence officials said.
A senior intelligence official said the timing of Blair's resignation also could be related to a recent negative Presidential Intelligence Advisory Board report given to Obama concerning the functioning of the director of National Intelligence Office.
The White House already has spoken with potential replacements, including John Hamre, former deputy defense secretary during the Clinton administration, intelligence officials said.
One source said retired Air Force Lt. Gen. Jim Clapper, defense undersecretary for intelligence, is a leading candidate for the job.
Two Senate sources indicated that Blair has been unhappy and frustrated. "He was not a happy camper," one of them said. "He was losing every turf battle to Panetta."
Sen. Kit Bond, vice chairman of the Senate Intelligence Committee, agreed, saying that the admiral was "squeezed out by turf wars."
"He was undercut by the White House on a number of occasions," Bond, R-Missouri, told CNN's John King. "And the attorney general has taken over the handling of terrorists who have been captured, their questioning, how they can be held, how they should be treated -- that is a problem."
Asked who should replace Blair, the senator said, "I think right now it is probably not worth a bucket of warm spit. I think probably the only person who could make it work would be Leon Panetta."
Sen. Diane Feinstein, chair of the Senate Intelligence Commitee, said coordinating all the intelligence agencies is a "difficult task even under the best of conditions."
"As recent attempted terrorist attacks show, we face serious national security challenges," said Feinstein, D-California. "The leader of these 16 intelligence agencies is in a critical position, which sets direction and speaks for the entire community."
This week, the Senate Intelligence Committee released a report saying the National Counterterrorism Center -- created after the September 11, 2001, attacks to coordinate U.S. intelligence efforts -- was "not organized adequately to fulfill its missions."
In addition, the report said other problems allowed suspect Umar Farouk AbdulMutallab to board a flight bound for Detroit, Michigan, in December with an explosive device that failed to detonate. AbdulMutallab was detained when other passengers noticed his clothes burning from his attempt to set off the device.
The report identified 14 "points of failure" in the incident, most of which have been raised previously by intelligence officials, including the failure of the State Department to revoke the suspect's U.S. visa, a breakdown in disseminating all information to key agencies and the failure to conduct necessary searches for information.
Blair responded to the report by noting changes made in response to the Christmas incident, including creation of a National Counterterrorism Center analytical unit dedicated to following up on terrorist threat information. However, Blair's statement noted that "institutional and technological barriers remain that prevent seamless sharing of information."
The issue of whether AbdulMutallab should have been read is Miranda rights also came into question. During congressional hearings on the case in January, FBI Direct Robert Mueller said AbdulMutallab was interviewed twice by what Mueller called some of the best FBI agents. Officials said the first interrogation lasted about 50 minutes, and the second was shorter.
AbdulMutallab provided information that "has already proved useful in the fight against al Qaeda," Justice Department spokesman Matthew Miller said.
It was after the second interrogation that AbdulMutallab was read his Miranda rights -- rights under U.S. law that are read to individuals before arrest. At that point, he stopped talking to the agents.
Blair, at the time, testified that a newly created high-value, detainee-interrogation group, or HIG, should have been brought into the loop.
"That unit was created exactly for this purpose: to make a decision on whether a certain person who is detained should be treated as a case for federal prosecution or for some of the other means," he said.
However, Blair later discovered that the group was not yet operational, a revelation that surprised many senators. He also said he hadn't been consulted on the decision to read AbdulMutallab his Miranda rights.
U.S. Rep. Pete Hoekstra, R-Michigan, the top Republican on the House Intelligence Committee, blamed Blair's resignation on the White House.
"That a man who has willingly dedicated himself to the cause of our nation's freedom would rather step down than continue to serve as America's top intelligence officer is a disturbing sign of the stranglehold the Obama White House has placed on America's intelligence agencies," Hoekstra said in a statement.
"Clearly, and understandably, Director Blair was frustrated by the White House's micromanagement and sidelining of the Office of the Director of National Intelligence on national security issues."
Part of the problem, Bond noted, is that when the director of national intelligence position was created, it was injected with the responsibility of coordinating the intelligence community -- but not with any authority.
Blair was the third director in five years.
"He really had very little power," Bond said. "I did not vote for the bill [that created the position] because I thought you created an unnecessary layer of bureaucracy with no authority. And I have talked to former DNIs who say, 'Yeah, you were right, we should have come forward and asked for some power.' "
Sen. Joe Lieberman, chairman of the Senate Homeland Security and Governmental Affairs Committee, said Blair "has been honest, honorable, and focused on improving and coordinating the American intelligence community to better protect our national security.
Lieberman, a Connecticut independent, added he looks forward "to talking with the admiral to understand why he is leaving his office now and whether he thinks the DNI needs more statutory authority than it currently has."
CNN's Jeanne Meserve, Fran Townsend and Gloria Borger contributed to this report.