O'Donnell leads Tea Party insurgency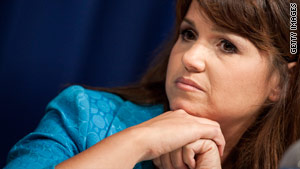 Christine O'Donnell is a conservative camopaigner who has admitted once "dabbling in witchcraft."
STORY HIGHLIGHTS
Christine O'Donnell has become figurehead for Tea Party movement
Conservative insurgency aims to push Republican Party to the right
O'Donnell once led campaign again promiscuity, dabbled in witchcraft
Karl Rover called her opinions "nutty" but has endorsed her anyway
(CNN) -- American politics has a photogenic new face with a troubled past of bad finances, potential fraud and a flirtation with witchcraft.
A previously unknown conservative activist named Christine O'Donnell is a sudden political sensation and Washington is trying to figure out what to make of her.
"Certainly she has some explaining to do," Republican Congressman Mike Pence said this week.
O'Donnell is a new Republican Party nominee for November's Senate election. She defeated a better-known career politician for the nomination with support from the Tea Party movement.
The Tea Party, which draws its name from an 18th-century uprising which helped set off the American revolution, isn't really a political party. It's a fast growing insurgency within the Republican Party, pushing some lawmakers further right and driving others from office.
As people learn more about O'Donnell, they're wondering if she is the best kind of candidate to replace them.

Video: O'Donnell: No more natl media

Video: Christine O'Donnell fires back

Video: Christine O'Donnell examined

Video: More O'Donnell clips coming?
For years, she led a Christian campaign against sexual promiscuity and decried a diverse range of evils from masturbation to shared bathrooms for male and female students. Before that, she says she once "dabbled into witchcraft."
She also reportedly dabbled into paying her taxes and home loan late enough to face legal proceedings. She has very little declared income and is facing a new complaint that she illegally spent more than $20,000 of campaign donations on her own living expenses.
O'Donnell denied the allegations and denounced them as the work of her opponents.
"Will they lie about us? Harass our families? Name call and try to intimidate us? They will."
Many Republicans are nervous about candidates like O'Donnell, as undeserving of the party's nomination and unlikely to win.
George Bush's former campaign manager, Karl Rove, questioned her honesty and called some of her remarks 'nutty.' But after a barrage of criticism from party ranks, he endorsed her anyway.
That signals just how popular the anti-tax, anti-incumbent Tea Party has become with American voters and how powerful at the polls.
Tea Party personalities are taking a growing role inside the Republican Party despite opposition from many established Republican leaders.
The leadership may yet fight for control of the party. Or despite their reservations, they can support newcomers like O'Donnell. The Tea Party is winning a lot lately and the Republicans like to win.
FOLLOW THIS TOPIC