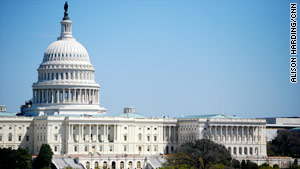 Missy Reilly Smith's graphic political ads are airing in the Washington, D.C. television market.
STORY HIGHLIGHTS
Ad features what appear to be bloody, dismembered fetuses
Broadcasters must air ads by qualified candidates for federal office
The candidate and TV stations have received many complaints about the ads
(CNN) -- A disturbingly graphic political ad is airing on local stations in Washington this week -- and stations are telling viewers there's nothing they can do to prevent it.
The ad, calling for an end to abortion, apparently shows bloody and dismembered fetuses, and has been airing over the past few days in the nation's capital, including during afternoon and early-evening time slots, when children are likely to be watching.
But according to spokespersons for several of the broadcasters, they are required by law to carry the ads unaltered.
The two ads are paid for by the campaign of Missy Reilly Smith, the long shot Republican candidate from the heavily Democratic District of Columbia. She is running for the post of nonvoting Congressional representative, which is currently held by Rep. Eleanor Holmes Norton.
Smith makes no apologies for the disturbing images in the ads, comparing them to the photos of Nazi concentration camps that forced the world to realize an awful truth.

Video: Dirtiest campaign ads of 2010
"I want everyone out there to watch," she said. "I believe that my priority is to save women from harm, and save babies from being murdered."
When one of the ads aired Monday afternoon on local NBC affiliate WRC-TV, it was preceded by a warning to viewers, saying the ad contains "extremely graphic images that may be disturbing to children." Then, a disclaimer said the station "is required by federal law to broadcast this advertisement without modification."
Federal communications law requires local stations to carry any and all ads by qualified federal candidates, to make sure no broadcaster has the power to oppose or censor any candidates by limiting their access to the airwaves. According to the Federal Communications Commission, broadcasters can only reject a federal candidate's ad if it contains a copyright infringement, or is defamatory.
"Legitimate candidate? They've gotta run the ad," said Howard Kurtz, host of CNN's "Reliable Sources."
Evan Tracey, a consultant for CNN on campaign advertising, said if it was an interest group that tried to air an ad like this, "the stations could say, 'No, too hot to handle, we don't want to handle it.' But because it's a federal candidate -- that's the key here -- this ad has to run."
Indeed, he wonders whether, in this case, the ads were made to support the campaign or the campaign was made to support the ads.
"She's not worried about winning this election," said Tracey, whose firm CMAG tracks political ads. "She wants to get this footage out there."
The ads were written and produced by her campaign manager, Randall Terry -- a vocal anti-abortion activist who founded Operation Rescue. Terry says he got involved with her candidacy to drive the issue he calls "child-killing" to the forefront of the electorate.
A spokesman with the National Republican Congressional Committee, which helps Republican candidates get elected to the House, declined to comment on the content of the ads. "We have never had any contact with this candidate," said Paul Lindsay.
Smith said she has come to regret the two abortions she had when she was young, and hopes to persuade the public to ban abortion by depicting the procedure in stark terms, even if that means shocking viewers with unwelcome images on television.
"We must show that abortion is murder," she said.
The ads were initially posted on YouTube, but the link now leads to a page saying, "This video has been removed as a violation of YouTube's policy on shocking and disgusting content."
Smith has saved many of the emails and voicemails she says she has received from viewers in the past few days. One angry message is full of unprintable words, while another tells Smith "just how disgusting and vile you are."
Another message says, "You should be absolutely ashamed of yourself for running that ad at a time when children can see it. My children saw it tonight."
But Smith vows to continue airing the ad through Election Day, if her money holds out.
"If I take a lot of flak, that's alright," she says. "I have a higher calling."
FOLLOW THIS TOPIC