Clinton: WikiLeaks cables show diplomacy at work
STORY HIGHLIGHTS
Clinton says they show 'diplomats doing the work of diplomacy'
She says countries are concerned, but they realize U.S. outreach will continue
Clinton says she has had to reassure countries following the leaks
(CNN) -- The confidential U.S. embassy cables posted online by the website WikiLeaks simply show "diplomats doing the work of diplomacy," U.S. Secretary of State Hillary Clinton said Saturday.
Clinton said she was not making light of the leaked documents, which reveal secret communications from U.S. diplomats around the world and have caused embarrassment for the United States and others.
"Everybody is concerned," she told reporters aboard her plane as it departed Bahrain, where she spoke at a conference. "Everybody has a right to have us talk to them, and have any questions that they have answered, but at the end of the day -- as a couple of analysts and writers are now writing -- what you see are diplomats doing the work of diplomacy."
The secretary made the comments off-camera but on the record.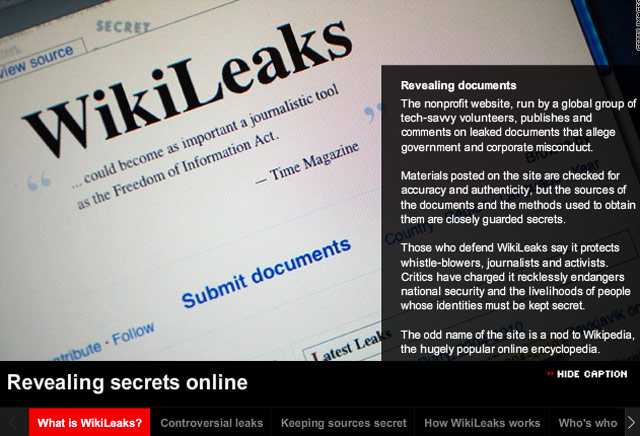 WikiLeaks 101: Exposing secrets online

WikiLeaks: Espionage or freedom?

Significance of leaked cables
Clinton said she has been working hard to re-establish trust and relationships that may have been harmed by the leaks. Many countries had questions that she had to answer, and she has had to reassure them, but she said many also realize U.S. outreach and diplomacy will continue.
"But I haven't seen everybody in the world, and apparently there's 252,000 of these things out there in cyberspace somewhere," she said of the documents, "so I think I'll have some outreach to continue doing over the next weeks just to make sure as things become public, if they raise concerns, I will be prepared to reach out and talk to my counterparts or heads of state of government."
Asked whether President Obama has had to call any heads of state, Clinton said she wasn't sure, though he had made recommendations for calls and would raise the issue as he speaks to counterparts on other matters.
"In a way, it should be reassuring, despite the occasional tidbit that is pulled out and unfortunately blown up," Clinton said. "The work of diplomacy is on display, and you know, it was not our intention for it to be released this way -- usually it takes years before such matters are. But I think there's a lot to be said about what it shows about the foreign policy of the United States."
FOLLOW THIS TOPIC


Part of complete coverage on

What next for WikiLeaks editor and founder Julian Assange, now that he's been released on bail in the UK?

Julian Assange says the sexual misconduct charges against him are little more than an effort to discredit him and his organization.

WikiLeaks editor walks out of London court after being freed on bail nine days after being arrested for questioning about alleged sex crimes in Sweden.

In 2006, Julian Assange was apparently looking for a date. After launching WikiLeaks, he evidently created a profile on OkCupid.com.

A court in London found itself in the world's spotlight, as a small army of celebrities turned up to offer support -- and bail money -- to Julian Assange.

The founders of Openleaks.org say they are former WikiLeaks members unhappy with the way the organization is being run under Julian Assange.

Hackers who support WikiLeaks want others to replicate the attacks they say took down the websites of MasterCard and Visa.

Does Julian Assange's threat to release "Doomsday Files" from Wikileaks carry validity?


Today's five most popular stories