STORY HIGHLIGHTS
18th century English diary contains oldest known reference to baseball
Baseball believed to have been played alognside other bat and ball games
Both baseball and cricket may have evolved from earlier game called "stool ball"
Exhibition at MCC Museum in London highlights sports' common heritage
London, England (CNN) -- An extract from an 18th-century diary containing the oldest known reference to baseball is among the items on display in a new exhibition in London exploring the English origins and cricketing connections of America's national sport.
While baseball was once claimed to have been invented in the U.S. in the mid-19th century, recent findings suggest a sport of the same name may have evolved decades earlier alongside cricket, crossing the Atlantic with English settlers to the American colonies.
One notable discovery found in a shed in a village in Surrey, southern England, in 2008 was a handwritten 18th-century diary belonging to a local lawyer, William Bray.
"Went to Stoke church this morn.," wrote Bray on Easter Monday in 1755. "After dinner, went to Miss Jeale's to play at base ball with her the 3 Miss Whiteheads, Miss Billinghurst, Miss Molly Flutter, Mr. Chandler, Mr. Ford and H. Parsons. Drank tea and stayed til 8."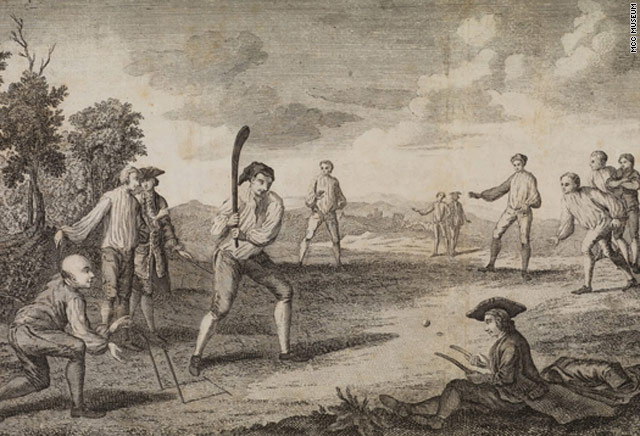 Gallery: Baseball's English origins
Julian Pooley, a historian at the Surrey History Centre who verified the diary, said Bray's precise printing of the words "base ball" suggested the sport may have been new to him.
"He writes in a particular type of handwriting but when he comes across a new word he often wrote it in a clear way as if he wanted to remember it," Pooley told CNN.
Also on display from the same era is an embroidered handkerchief featuring images of popular sports and pastimes of the day including cricket, fishing and "base-ball."
"The ball once struck off, Away flies the boy, To the next destind post, And then home with joy," reads an accompanying verse.
Adam Chadwick, Curator of the Marylebone Cricket Club (MCC) Museum at Lord's, which is hosting the exhibition in collaboration with the Baseball Hall of Fame and the C.C. Morris Cricket Library and Collection in Philadelphia, said the diary and the handkerchief offered convincing evidence of baseball's historic origins.
"You have a game called 'base-ball' being played alongside other things such as cricket, stool ball, trap ball, all of these ancient bat and ball games in the early part of the 18th century in England," Chadwick told CNN. "It really does confirm the feeling that some people have that baseball has a really ancient tradition."
Cricket
- Number of players: 11
- Match duration: Up to 5 days
- Player who throws the ball: Bowler
- Player who hits the ball: Batsman
- Central playing area: Wicket
- Top single stroke: Six
- Innings per team: 2 in Test matches
- Current world champions: Australia
- Other key nations: India, Pakistan, England, West Indies, South Africa
Most Test centuries: Sachin Tendulkar - 47
- Top earner in 2009: Mahendra Singh Dhoni - $10M
Baseball
- Number of players: 9
- Match duration: Less than five hours
- Player who throws the ball: Pitcher
- Player who hits the ball: Batter
- Central playing area: Diamond
- Top single stroke: Home run
- Innings per team: 9
- Current world champions: United States
- Other key nations: Cuba, Taiwan, Japan, Dominican Republic, Venezuela
- Most Major League home runs: Barry Bonds - 762
- Top earner in 2009: Alex Rodriguez - $33M

Sources: cricinfo.com, mlb.com, Forbes, USA Today
Stool ball is an even older variation of bat and ball, dating back to at least the mid-15th century, which scholars say could have been the common link in the early development of both cricket and baseball.
The Marylebone Cricket Club was founded in 1787 and was responsible for codifying the rules on which the modern game of cricket is based.
"Swinging Away: How Cricket and Baseball Connect" also traces the development of bats, balls and uniforms in each sport, featuring equipment used by stars from baseball's Babe Ruth to Barry Bonds and cricket's W.G. Grace to Andrew Flintoff.
While the sports diverged with the formalization of cricket's rules and the 19th-century emergence of professional baseball in the U.S., Chadwick says the two sports continued to influence and compete with each other into the 20th century.
One of the first great professional baseball sides, the Cincinnati Red Stockings, was managed by Harry Wright, the son of an English cricketer who played both sports professionally in New York.
"Harry picks up the team, takes them off to Boston and they eventually turn themselves into the Boston Red Sox that we know today," said Chadwick. "Here we have a professional cricketer at the heart of that winning side."
While the global reach of the British Empire spread cricket to India, Australia and other imperial outposts, baseball also set about promoting itself worldwide, backed by baseball player-turned-entrepreneur Albert G. Spalding.
Spalding saw the potential of opening up new markets for his burgeoning sports goods business and incredible images show a game of baseball being played in front of the Pyramids in Egypt in 1889, with players clambering up the Sphinx to pose for a team photo afterwards.
In 1874, Wright's Red Stockings had toured England along with the Philadelphia Athletics, playing exhibition matches against each other and playing cricket against local sides. In one thrilling encounter at Lord's, the Americans beat an MCC side by two runs, despite playing an exhibition game of baseball between the sessions of the cricket match.
Yet despite attracting curious crowds, it seemed that a love of one sport precluded anything more than an admiration for the other.
"I consider baseball an excellent game, but cricket a better one," said the Prince of Wales - who was to become Edward VII -- after watching an exhibition in London in 1889.
While visiting London in 1934, Babe Ruth was unimpressed by the wages paid to professional cricketers and considered hitting the ball with cricket's wider and flat-faced bat no challenge at all.
"Sure I could smack that ball all right," he said. "How could I help it when you have a great wide board to swing."
Cricket hung on in the States, the amateur spirit kept alive by the Gentlemen of Philadelphia who regularly toured England until the early 20th century and produced John Barton King, considered the country's greatest ever cricketer.
I consider baseball an excellent game, but cricket a better one
--Prince of Wales, 1889
In 1908, King topped the bowling averages in England, catching batsmen unawares with his baseball-influenced "Angler" -- a swerving delivery which began with King holding both his hands behind his head in the manner of a pitcher.
Ultimately though, the U.S. was looking for its own game and baseball fitted the bill. In 1908 a commission appointed by Spalding to investigate the sport's origins concluded that baseball had been invented by Abner Doubleday, later a Civil War general, at Cooperstown, New York, in 1839 -- a story which baseball historians now call a myth.
Tom Shieber, Senior Curator at the National Baseball Hall of Fame and Museum at Cooperstown, said there had been no "inception moment" when baseball was created.
But he said the uncovering of the sport's English origins did not change the fact that the modern game was a 19th-century American creation.
"You can find all sorts of rourtes to the game but the bottom line is that baseball is an American game," Shieber told CNN.
"This is where it grew up, this is where it was embraced. Just because the latest evidence shows that there was a game called, of all things, baseball doesn't mean you have to call it an English sport. I don't think people in the U.S. would believe it and I don't think people in England would believe it."
And while cricket and baseball may have been separated at birth, Chadwick says the sports still have much to learn from each other, especially with the advent of Twenty20 cricket -- a shortened form of the game which eschews the traditional tactical conservatism of the five-day test match format in favor of rapid-fire hitting.
Chadwick says Twenty20 has brought cricket and baseball as close as they have ever been.
"Sport does tend to be slightly tribal. If you are a follower of one thing now you follow that sport to the exclusion of all else," he said.
"But there are far too many similarities and far too much to learn from each other for the one game to ignore the other. I think as a fan one can really appreciate one's own game a little better if one understands the other game the more."
"Swinging Away: How Cricket and Baseball Connect" runs until December 2010 at the MCC Museum at Lord's Cricket Ground in London.
CNN's Paul Armstrong and Ryan Smith contributed to this story.
FOLLOW THIS TOPIC