Tiger Woods' divorce finalized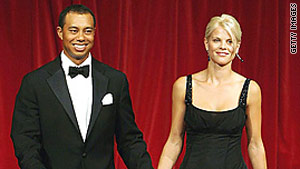 A court document says Woods and Nordegren agreed to a joint parenting plan last month.
STORY HIGHLIGHTS
The couple reached a settlement July 3, document says
Elin Nordegren says marriage is "irretrievably broken"
"We wish each other the very best for the future," the couple says
The settlement allows for "shared parenting of their two children"
(CNN) -- The divorce of golfer Tiger Woods and wife Elin Nordegren was finalized Monday, according to a joint statement issued by their attorneys.
The marriage's end comes nine months after allegations surfaced that Woods carried on several extramarital affairs.
"We are sad that our marriage is over and we wish each other the very best for the future," the statement said. "While we are no longer married, we are the parents of two wonderful children and their happiness has been, and will always be, of paramount importance to both of us."
The judgment, issued Monday in Bay County, Florida, Circuit Court, allows for "shared parenting of their two children," their attorneys said in a statement.
The estranged couple asked for privacy as they "adjust to a new family situation."

Video: Tiger Woods' full apology
In the dissolution of marriage petition filed Monday, Nordegren cites the marriage as "irretrievably broken" as the reason for divorce.
According to the document, the couple reached a settlement agreement July 3 in which they agreed to a joint parenting plan.
Both Woods and Nordegren agreed to waive the 20-day delay period offered in Florida before a final judgment.
"The parties have been separated for a substantial period of time ... and the delay would generate unnecessary public attention," according to the waivers.
The couple were married October 5, 2004.
Allegations of infidelity first began to surface in November when Woods crashed his Cadillac Escalade into a fire hydrant and tree outside his family's home in Orlando.
The November 27 incident, which left him with a sore neck and a cut on his lip that required five stitches to close, also set in motion the crash of his storybook life.
A few days beforehand, the National Enquirer had reported he was having an affair with a New York nightclub hostess, who denied it. But that allegation was followed by others, and Woods' tightly controlled world and image soon began to crumble.
Just after Christmas he entered a rehabilitation center, where he stayed for 45 days getting treatment for undisclosed "issues."
"It was to take a hard look at myself, and I did, and I've come out better," he said in April when he made his return to the PGA tour.
Woods also has acknowledged that he engaged in multiple extramarital affairs over the course of his nearly six-year marriage.
FOLLOW THIS TOPIC