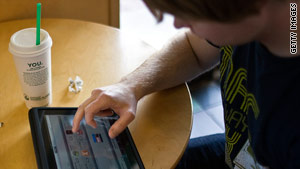 Some users say laying the iPad on a flat surface causes Wi-Fi connections to cut out.
STORY HIGHLIGHTS
Three days after release, users say they're having trouble with iPad's Wi-Fi connection

On Apple's support site, dozens say connection is weak or that they can't connect at all

Apple posted a page with basic troubleshooting tips

The company didn't respond to CNN.com request for comment

(CNN) -- Users who rushed to snap up Apple's iPad are complaining within days of the slate computer's highly anticipated release that they're having trouble connecting it to the Internet.
On Apple's technical support Web site, there were 11 pages of comments Tuesday morning on a post saying Wi-Fi connections were weak or kept cutting out.
"Add me to the list with problems! I'm very disappointed that there's no solution either," one user wrote. "Does anyone think this can be fixed with an update, or should I just get a refund while there's time?"
Versions of the iPad, a sort of hybrid between a laptop and a smartphone designed largely for reading, Web surfing and playing games, will eventually work with both Wi-Fi and 3G wireless connections.
But the versions released Saturday are Wi-Fi only.
Some users were saying their Wi-Fi connections were weak, while others were saying they weren't able to connect with Wi-Fi at all. Some users say laying the iPad on a flat surface exacerbates the problem.
Apple did not respond Tuesday morning to a request from CNN.com for a response to the complaints.
On Saturday, when the company reported selling 300,000 of the devices, Apple posted a Web page outlining troubleshooting tips for "occasional problems" that included weak Wi-Fi connections or not being able to find a signal.
The tips include moving closer to a Wi-Fi router or hot spot and making sure the Wi-Fi router is plugged in and the power is turned on.
The Web page also suggests checking for sources of possible interference, like a microwave oven, and making sure you're connected to the correct Wi-Fi connection if multiple ones are available.
It's not unusual for users to have trouble navigating a new electronic device in its early days. But reports from tech-savvy members of the online community suggest the problem isn't just operator error.
"Count me in as someone who's having iPad Wifi issues as well,"wrote Michael Arrington, founder and editor of technology blog TechCrunch. "The device works fine near the router, but on the other side of the house, nada. But my Macbook pro and my Nexus One and other various devices I've brought into the house pick up wifi just fine in that area."
The iPad is a lightweight, portable computer with a glass multitouch screen that wirelessly surfs the Web, displays photos and videos, runs apps and plays games and movies, among other potential uses.
Reviews in the tech community have ranged from "sensual" to "disappointment" in the hours since its release. Some have raved that it's close to being a "laptop killer," meaning it can perform almost all the functions of the bigger portable computers.
There have been raves about its 1.5 pound weigh-in, making it easy to carry, and its ability to render reading material in color -- a potential boon for comics, newspapers and magazines.
Complaints, which predated widespread notice of the Wi-Fi issues, have centered around its lack of a camera, difficulty using its onscreen keyboard and the fact that users can't run more than one program at a time.
Like other Apple products, iPad does not run Flash, making some games and videos unusable.