Guggenheim looking for museum-worthy YouTube videos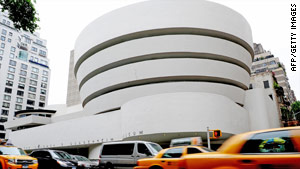 A panel will choose submissions to be displayed in Guggenheim museums around the world, including New York.
STORY HIGHLIGHTS
YouTube videos will vie for display in Guggenheim museums
Videos must be uploaded by July 31
A panel of experts will choose up to 20 for display
New York (CNN) -- There is still time to get your YouTube video showcased at Guggenheim museums. But not much.
All video artists who have dreamed of having work displayed in a prestigious museum have until July 31 to grab their best chance yet.
YouTube and the Solomon R. Guggenheim Foundation have joined forces for a global contest called YouTube Play: A Biennial of Creative Video.
In association with HP, YouTube Play is designed to find the most creative online videos. Anyone can participate by uploading their videos to YouTube.com/Play.
The Guggenheim will choose up to 200 videos for display on the YouTube Play website. A panel of experts will then choose up to 20 to be displayed in October at Guggenheim museums around the world.
Ed Sanders, senior marketing manager at YouTube, said he hopes this takes videos to a new level.
"It is our desire to recognize and celebrate the originality and innovation of our vast community of creators in every corner of the globe and to elevate creative video to a new art form," Sanders said in a news release.
The Guggenheim's chief curator, Nancy Spector, agreed.
"We're not looking for what's 'now.' We're looking for what's next," she said.
FOLLOW THIS TOPIC