'Google Me' site may be in the works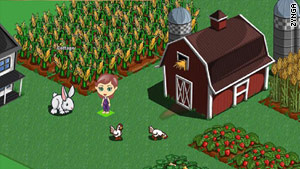 According to an online report, Google has invested more than $100 million in socal-game company Zynga.
STORY HIGHLIGHTS
Reports: Google invested in "FarmVille" maker Zynga as it plans social-networking move

Online tech pundits say Google Me will aim to take on Facebook

Former Facebook technical officer says Google plans are "not a rumor"
(CNN) -- If online reports are to be believed, Google could be cooking up a rival for Facebook -- and bringing the maker of popular social games like "FarmVille" with them.
Google Games, built around some sort of partnership with casual-gaming company Zynga, is in the works and would be part of a larger social network called Google Me, according to technology blog Tech Crunch.
Statements from notable internet players, including Digg founder Kevin Rose and a former Facebook chief technical officer, have suggested in recent weeks that the search-engine giant is working on a social network geared toward rivaling Facebook.
TechCrunch this weekend reported that unnamed sources said Google has invested between $100 and $200 million in Zynga, the maker of successful online social games like "FarmVille" and "Mafia Wars."
The investment part of the deal was confirmed last month and a "larger strategic project" is still in the works, according to that report.
A Zynga spokeswoman said Monday that the company has no comment on the reports. A Google spokesman referred questions to the company's media-relations e-mail account, which did not respond to inquiries.
The popularity of Zynga's games -- more than 50 million people play them on any given day, according to developerAnalytics -- could bring considerable heft to any online networking or gaming project Google launched.
The obvious question then would become whether the "Farmville" maker would pull its games from Facebook. That would be a tall order considering the success those games have seen.
The TechCrunch report also added a new wrinkle to the Google Me speculation -- saying the Zynga deal would be part of a project called Google Games, according to sources.
On the question-and-answer site Quora, former Facebook technical officer Adam D'Angelo said the Google Me rumors are real. The project would build on Google Buzz, a social networking effort rolled out by Google in February, he said. Google Buzz has been widely criticized by tech pundits.
Reports have not offered details on how a Google site would look, whether it would link to Gmail and other Google pages like Buzz does, or how Google Games would integrate with it.
"This is not a rumor. This is a real project. There are a large number of people working on it. I am completely confident about this,"D'Angelo wrote.
"They realized that Buzz wasn't enough and that they need to build out a full, first-class social network. They are modeling it off of Facebook."
FOLLOW THIS TOPIC