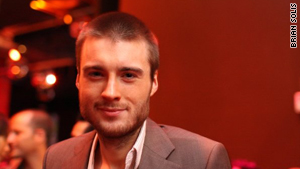 Facebook's new Places feature will overshadow services such as Foursquare and Gowalla, Pete Cashmore says.
STORY HIGHLIGHTS
Facebook Places allows users to "check in" to hotspots and share their location with friends

Foursquare and Gowalla will have to accept they are no longer the biggest game in town

Now that social networkers can check in through Facebook, why would they go elsewhere?

Editor's note: Pete Cashmore is founder and CEO of Mashable, a popular blog about social media. He is writing a weekly column about social networking and tech for CNN.com.
(CNN) -- Facebook this week launched "Places," a service that allows any user to "check in" to restaurants, stores and other local businesses -- thereby sharing their location with friends.
The new feature is virtually identical to the much-hyped location startups Foursquare and Gowalla, leading to the obvious question: Are these upstarts now doomed?
I'd stop far short of declaring their death -- the market for location-based services is large enough to accommodate many large businesses -- but both will have to come to terms with the fact that they are no longer the biggest game in town.
Identical features
Few pundits expected Facebook to tackle existing location-based services head on. While the company's location product has been rumored for months, with hints of "place pages" and the ability to add your location to an update, there was little reason to believe that Facebook would implement the "check-ins" model popularized by Gowalla, Foursquare and their ilk.
But the social networking behemoth did indeed take inspiration from these services -- the only features Facebook declined to duplicate were the "Mayorships," merit badges and other incentives earned by users who check in to Foursquare and similar services regularly.
Facebook is by no means taking a half-step into the location business -- while representatives from Gowalla and Foursquare were both invited to talk at the Places launch, there's little doubt that Facebook aims to compete directly with these startups by cloning their features wholesale.
Winning by the numbers
Facebook's advantage over Foursquare derives largely from its size. Foursquare declared in July that it had exceeded 1 million check-ins per day -- but with more than 500 million users, Facebook could match that figure if only 0.2 percent of its members check in daily.
In short, it's inevitable that Facebook will surpass Foursquare in the check-ins race, perhaps in a matter of weeks. For Facebook, this massive audience is the gift that keeps on giving.
Location-based services will thrive if they're able to attract a "critical mass" of small businesses willing to reward regular customers -- and those businesses will surely choose to create a page on Facebook rather than take a chance on less prominent startups.
Likewise, developers building location-based services want to attract as many users to their applications as possible. So they, too, will choose to tap into Facebook rather than its less popular rivals.
A boon for Foursquare?
It's possible to conceive that Facebook's location product will actually accelerate the growth of Foursquare and Gowalla. As Foursquare CEO Dennis Crowley told VentureBeat, the move provides market validation for the upstarts.
"If Facebook thinks that location is a good idea, then we are on to something," Crowley said.
Others might argue that Facebook's entry into the location space will expose mainstream users to the benefits of location sharing, leading to accelerated growth for all location-based startups.
I'm unconvinced. The counter-argument: Now that the majority of social network users can check in through an existing Facebook account, why would they seek the same service elsewhere? Is the prospect of earning badges and other virtual prizes enough to win over the masses?
Far from over
Foursquare and Gowalla certainly won't be "killed" by Facebook Places -- far from it. Location-based services is a red-hot market in which even the smallest players will be acquired by bigger companies merely for their technical prowess.
But the launch will limit the potential of these early leaders -- being No. 1 in the location space is no longer a reasonable expectation for any company not called Facebook.
FOLLOW THIS TOPIC