Continental cuts back on free food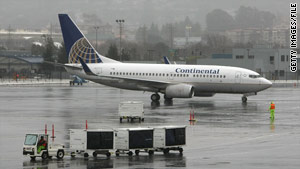 Continental Airlines is rolling out a food-for-purchase program in place of free food on many routes.
STORY HIGHLIGHTS
Food-for-purchase program to be instituted on most domestic routes in U.S. and Canada

Free food also will be cut on some leisure routes to Latin America and the Caribbean

Intercontinental economy-class passengers still will receive complimentary food

Complimentary food offerings to remain in place for first- and business-class passengers

(CNN) -- Continental Airlines will discontinue offering free food to economy-class passengers on the majority of its domestic flights in the United States and Canada and on flights to some leisure destinations in Latin America and the Caribbean, the airline announced Monday.
"Our traditional free-food model has served us well for many years, but we need to change to reflect today's market and customer preferences," Jim Compton, executive vice president and chief marketing officer, said in a statement.
The airline plans to offer "a variety of high quality, healthy food choices" for sale in economy class. Prices and menus have not yet been determined and will be announced before the new program begins in the fall.
In addition to most domestic flights in the U.S. and Canada, the food-for-purchase program will apply to leisure destinations such as Cancun and Puerto Vallarta, Mexico, and the Caribbean Islands, Continental spokeswoman Christen David said.
Complimentary food will still be offered on flights to business destinations such as Mexico City, Mexico.
The differentiation between offerings on leisure and business routes is driven by economics, David said via e-mail.
"Leisure markets don't produce the ticket revenue that can continue to support the complimentary food model," she said.
"Markets that have a distinct emphasis on business travel produce better ticket revenue that can support a more inclusive product offering including complimentary food. We also take into account competitive factors, such as what other airlines are offering in these respective markets."
Economy-class passengers on trans-Atlantic and trans-Pacific flights, flights to South America, some additional international routes and domestic routes lasting more than six hours also will continue to receive free food.
Continental will continue to offer complimentary food to all first- and business-class passengers. Nonalcoholic beverages and snacks including pretzels still will be complimentary for passengers on all Continental flights.
Continental noted that its main U.S. competitors either already charge economy-class passengers for food, or do not offer food.
American Airlines replaced complimentary food offerings with a food-for-sale program last year on flights between the U.S. and Central American countries and the Dominican Republic.